Deepcool Wind Pal Mini Blue LED Metal Mesh Silent Laptop Cooler Pad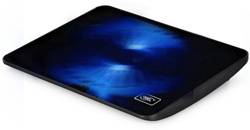 Deepcool Wind Pal Mini Blue LED Metal Mesh Silent Laptop Cooler Pad
140mm blue LED fan, Crescent shape with metal mesh panel design provides great air flowing, Unique crescent structure provides comfortable using, USB pass-through
Features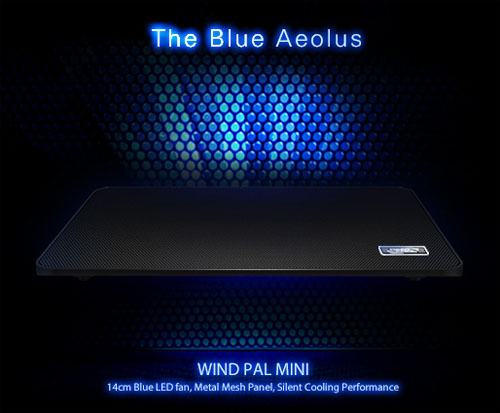 140mm blue LED fan
Crescent shape with metal mesh panel design provides great air flowing
Unique crescent structure provides comfortable using
USB pass-through
The Blue Aeolus
Blue & Black Color Mix
The whole body of WIND PAL MINI is in black: black metal mesh and black plastic supporting structure. Along with the blue LED light, this cooler demonstrates the classic match of black and blue.
Slim Design
The crescent shape shows a slim and portable theme of this cooler.
High Quality Metal Mesh
The front panel is made of high quality metal mesh, which allows optimal airflow through the panel to cool the notebook effectively.
Sleek Design
The crescent body and the flat metal mesh form into a perfect piece that consists of beautiful lines.
Cable Management Groove
WIND PAL MINI has a long USB power cable for user to connect to the notebook; and a carefully designed groove allows you to tidy up the cable when you put this into your bag.
Angle Adjustable Supporting FeetThe gap between the supporting feet and the cooler base allows you to unfold them easily and provides you the best viewing angle to use your notebook.
14cm Blue LED Fan
WIND PAL MINI has a built-in 14cm fan to provide big airflow to cool the notebook. With blue LED lights, this fan offers more than just cooling.
Metal Mesh Panel
The front panel is flat in metal mesh and this panel covers the whole part of the hot spots of your notebook. The honeycomb holes allow the cold air to blow the heat away quickly.
USB Pass-through Connector
WIND PAL MINI has USB pass-through connector for additional USB device. It takes power from your notebook but doesn't occupy any USB port.
7° angle brings you comfort in viewing
In order to ensure users' better experience, WIND PAL MINI adopts 7°angle which is the industry recognized most comfortable support angle not only in line with the vast majority of users' using habits, but also in line with the spinal bending angle and brings a comfortable experience.
Technical Specifications
Overall Dimension

340X250X25mm

Fan Dimension

140X140X15mm

Net Weight
575g
Bearing Type
Hydro Bearing
Rated Voltage
5VDC
Operating Voltage
4.5ļ½˛5VDC
Started Voltage
2.8VDC
Rated Current

0.13±10%

Power Input
0.65W
FAN Speed
10

00±10%RPM

MAX.Air Flow
46.11CFM
Noise

21dB(A)