Pay only P 4,470 a Month for 12 months.
Or pay only P 8,466 a Month for 6 months.
Installment promo is available for locally issued credit cards
Card holder must transact inside an Asianic store to avail of the installment
Operating System
Available with Windows 10 Pro - for a smooth, versatile PC experience.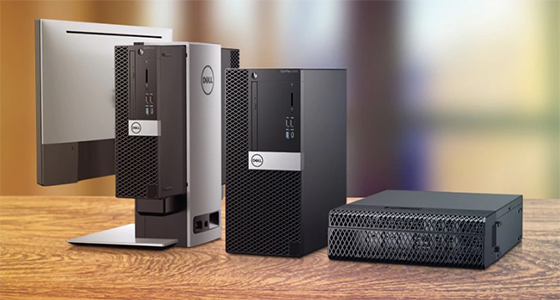 The desktop reimagined
OptiPlex has 25 years of experience delivering customer-led innovation for desktops by continuously adapting to the way you work. Now featuring versatile, space-saving form factors and 8th generation Intel® Processors to unleash your full potential.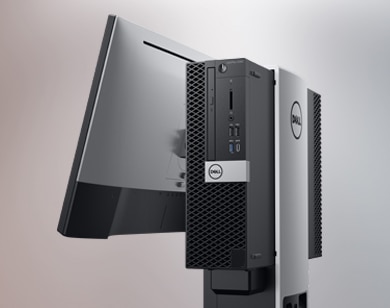 Conveniently compact
Sleek and flexible: Ideal for financial or government offices, the OptiPlex 5060 delivers full-power features in a smart design that performs in any environment.
Fit for any workspace: Combine the small form factor with the new OptiPlex Small Form Factor All-in-One stand for a versatile, flexible solution. Further maximize your workspace by placing the tower discreetly on or under your desk.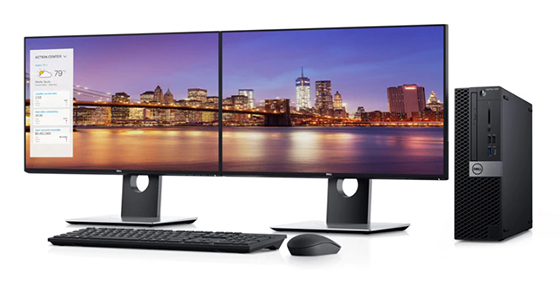 Outstanding performance in a smart solution
Power that performs: 8th generation Intel® Core™ Processors drive your workday like never before.
Fast and efficient: Upgraded 2666MHz DDR4 is the faster and more efficient memory available that maximizes responsiveness and multitasking, for seamless operation. Optional Intel® Optane™ Memory turns even the smallest, routine tasks into huge productivity gains, launching browsers and opening files faster and smoother than ever.
Connect with confidence: Quickly connect to your devices and networks with support of up to three monitors and two native DisplayPorts. Connect to an optional third port of your choice, including DisplayPort, HDMI 2.0b, VGA or USB Type-C Alt Mode.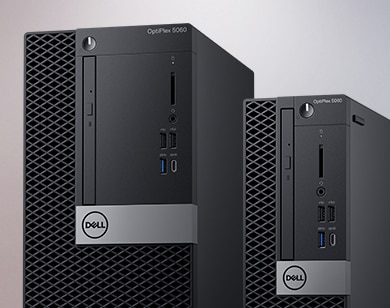 Serious security you can trust
Unified security: Optional cable covers reduce clutter, prevent access to the ports and cables in the back of the system and seamlessly match the desktop's elegant design, so your setup looks unified and stays protected.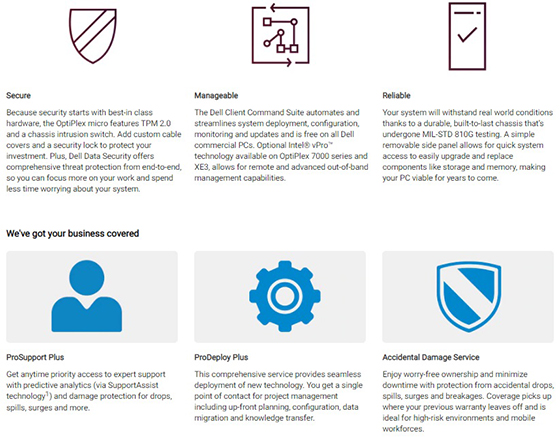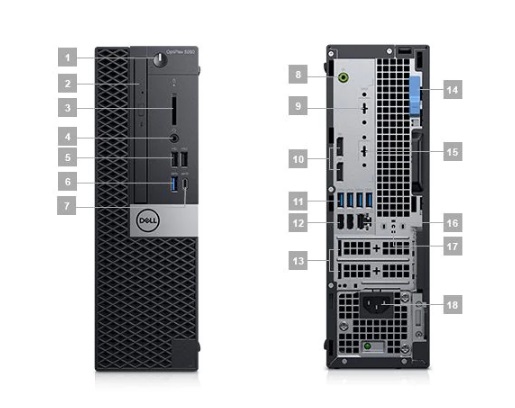 Ports & Slots – Small Form Factor
1. Power Button | 2. Optical Drive (Optional) | 3. SD Media Card Reader (Optional) | 4. Universal Audio Jack | 5. USB 2.0 Ports (2) (1 with PowerShare) | 6. USB 3.1 Gen 1 Port | 7. USB 3.1 Gen 2 Type-C Port | 8. Line-out | 9. Serial Port (Optional) | 10. DisplayPorts (2) | 11. USB 3.1 Gen 1 Ports (4) | 12. USB 2.0 Ports (2) | 13. PCIe Card Slots (2) | 14. Toolless Latch | 15. Video Port (Optional) | 16. RJ-45 | 17. Knock-out Slots for Wireless Antennas | 18. Power Connection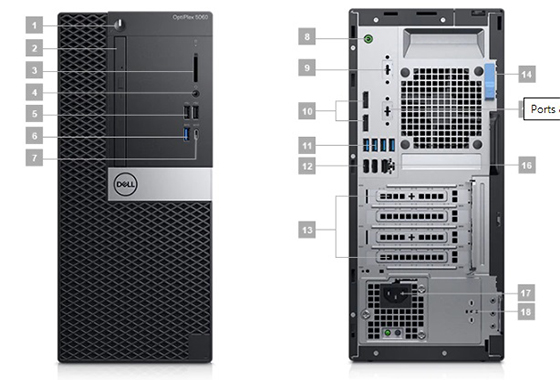 Ports & Slots – Tower
1. Power Button | 2. Optical Drive (Optional) | 3. SD Media Card Reader (Optional) | 4. Universal Audio Jack | 5. USB 2.0 Ports (2) (1 with PowerShare) | 6. USB 3.1 Gen 1 Port | 7. USB 3.1 Gen 2 Type-C Port | 8. Line-out | 9. Serial Port (Optional) | 10. DisplayPorts (2) | 11. USB 3.1 Gen 1 Ports (4) | 12. USB 2.0 Ports (2) | 13. PCIe Card Slots (4) | 14. Toolless Latch | 15. Video Port (Optional) | 16. RJ-45 | 17. Power Connection | 18. Knock-out Slots for Wireless Antennas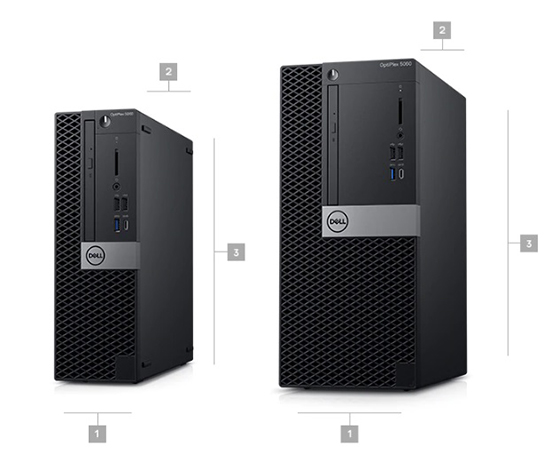 Dimensions & Weight
Small Form Factor: 1. Width 9.26cm (3.7") | 2. Depth 29.0cm (11.4") | 3. Height 29.2cm (11.5") | Minimum Weight 5.26kg (11.57lb)
Tower: 1. Width 15.4cm (6.1") | 2. Depth 27.4cm (10.8") | 3. Height 35.0cm (13.8") | Minimum Weight 7.93kg (17.49lb)
Technical Specifications
Processor
:
Intel Core i5-8500 (6 Cores/9MB/6T/4.1GHz/65W)
Chipset
:
Intel Q730 Chipset
Operating System
:
Windows 10 Pro (64bit) English 
Systems Management
:
No Out-of-Band Systems Management 
Memory / Max
:
4GB (1x4GB) 2666MHz DDR4 [Max Memory 32GB @ 2x16GB] 
Graphics
:
Intel® HD Graphics 630
HD Capacity
:
3.5 inch 1TB 7200rpm Hard Drive
Optical
:
8x DVD+/-RW 9.5mm Optical Disk Drive
Keyboard
:
KB216 Black
1 external USB Type-C 3.1 Gen 2 port
1 external USB Type-A 3.1 Gen 1 port
2 external USB Type-A 2.0 Gen 1 ports (one with PowerShare)
4 external USB Type-A 3.1 Gen 1 ports
2 external USB Type-A 2.0 Gen 1 ports (both SmartPower On)
4 internal USB 2.0 connectors
2 Display Port Connectors
Audio
:
Realtek ALC3234 High Definition Audio Codec 
MCR
:
No Media Card Reader 
Power Supply
:
OptiPlex 5060 SFF with 200W up to 85% efficient Power Supply (80plus Bronze) 
Dimensions
:
Height: 29 cm 
Weight: approx 5.26 kg (11.57 lb) [May vary with config]
Recovery Media
:
No Media Kit