D-Link DCS-1130L Wireless IP NetworK Camera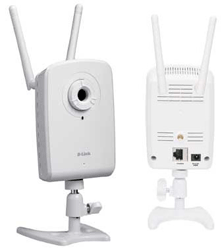 D-Link DCS-1130L Wireless IP NetworK Camera
Allows you to save snapshots and record video and audio directly from the web browser to a local hard drive without installing any?software, You can also record video directly to a local network area storage?device without the need for a dedicated PC. Dual mode recording, View and manage your camera from any?computer over the internet through mydlink.com website

Pay only P 499 a Month for 12 months.
Or pay only P 999 a Month for 6 months.
0% interest promo is available for locally issued credit cards
Card holder must transact inside an Asianic store to avail of the 0% promo
Features
Camera Surveillance for Home & Office
The D-Link DCS-1130L Network Camera is a versatile and unique surveillance solution for your home or small office. Unlike a standard webcam, the DCS-1130L is a complete system with a built-in CPU and web server that transmits high quality video images for security and surveillance. The DCS-1130L can be accessed remotely and controlled from any PC or notebook over the local network or through the Internet via a web browser. The simple installation and intuitive web-based interface offer easy integration with your existing wired network, or with a 802.11n/g/b wireless network. DCS-1130L also comes with remote monitoring and motion detection features for a complete and cost-effective home security solution.
Flexible Recording Functionality
The DCS-1130L allows you to save snapshots and record video and audio directly from the web browser to a local hard drive without installing any software, making it convenient to instantly capture any moment from a remote location. You can also record video directly to a local network area storage device without the need for a dedicated PC. DCS-1130L can also take snapshots and record video whenever motion is detected, or according to a user-defined schedule.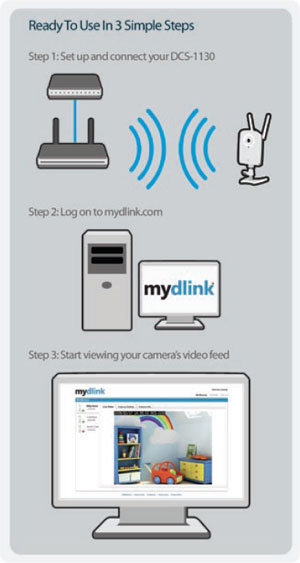 Effortless Access Through mydlinkTM
You can add the DCS-1130L to your account on the mydlink.com website, which allows you to access your camera from any computer over the Internet.
View your camera's live video feed from the office, or configure motion triggered snapshots while away on vacation. With mydlinkTM, it's easy to manage your DCS-1130L anywhere, anytime.
See how easily to setup DCS-1130L in just 3 Simple Steps
In the video, you will see how D-Link DCS-1130L can be setup easily unlike the conventional way. Accessing it is so much convenient, simply sign up an account at mydlinkTM web application and you can view LIVE streaming at anywhere.
Download FREE "mydlinkTM Lite" from Apple App Store or Android Marketplace and you can access live feed from your iPhone or Android Mobile Phone.
Package Contains
 
Wireless N Network Camera
CAT5 Ethernet Cable
Power Adapter
Camera Base and Mounting Kit
Quick Installation Guide
CD-ROM with:?
Software?
Product Documentation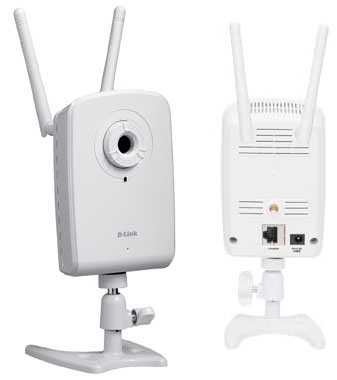 Technical Specifications
Camera Specifications
Sensor:
¼" CMOS
Lens:
5.01mm, F2.8
Minimum Illumination:
1.0 Lux @ F2.8
3A Contr>ol:
AGC, AWB, AES
Electr>onic Shutter:
1/60(1-50) ~ 1/15,000 Sec
Zoom:
16x Digital Zoom
Audio
Microphone:
Built-in Omni-directional Microphone
Frequency:
50 ~ 16000Hz
S/N Ratio:
6mm, -40db + 3db
Video Formats Supported:
MPEG-4 and MJPEG (Simtrtaneous Dual Format Compression)
JPEG for Still Images
Display type:
ActiveX
Java
Mtrti-Profile:
Supports 4 profiles simtrtaneously
Features:
Adjustable image size and quality
Time stamp and text overlay
Three configurable motion detection windows
Flip and Mirror
Resolution:
Up to 30 frames at 640x480
Up to 30 frames at 320x240
Up to 30 frames at 160x120
Connectivity:
Wireless (Draft 802.11n) Network (Backward compatible with 802.11g)
Wired (10/100 Fast Ethernet) Network
Security:
Password Authentication
LEDs:
Power/Link
Networking Protocols:
IPV4, ARP, TCP, UDP, ICMP
DHCP Client
NTP Client (D-Link)
DNS Client
DDNS Client (D-Link)
SMTP Client
FTP Client
HTTP Server
Samba Client
PPPoE
UPnP Port Forwarding
RTP
RTSP
RTCP
3GPP
Certifications:
FCC Class B
IC
CE
C-Tick
Power:
External Power Supply:
5VDC, 2.5A
Consumption:
4 Watts Max
Temperature:
Operating:
32°F to 104°F (0°C to 40°C)
Storage:
-4°F to 158°F (-20°C to 70°C)
Operating Humidity:
20%-80% RH Non-condensing
Dimensions (L x W x H):
Item: 1.5" x 3.2" x 4.7" (38 mm x 81mm x 119mm)

Packaging: 1.6" x 10.8" x 8.2" (41mm x 274mm x 208mm)
Weight:
Item: 0.5 lbs (226.8 g)

Packaging: 2.0 lbs (907.2g)
Warranty:
1 Year Limited*
Minimum System Requirements:
Wireless (Draft 802.11n) Network PC with:
1.3 GHz Processor
128MB Memory
Windows 7, Vista® or Windows® XP SP2
Internet Explorer® v6 and later
Mtrtiple Camera Operation Requires:
Wireless (Draft 802.11n) Network PC with:
2.4GHzProcessor
512MB Memory
32MB Video Card
Windows 7, Vista® or Windows® XP SP2
Internet Explorer® v6 and later
Package Contents:
Wireless N Network Camera
CAT5 Ethernet Cable
2 Detachable Antennas
Power Adapter
Camera Base and Mounting Kit

Quick Installation Guide CD-ROM** with:
Software
Product Documentation