Epson T1033 Magenta Ink Cratridge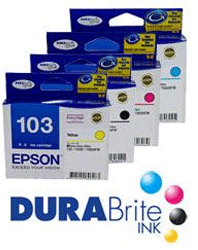 Epson T1033 Magenta Ink Cratridge
The T1033 Magenta ink cartridge is a High Yield Durabrite Ultra Ink Cartridge. Durabrite Ultra ink is ideal for general purpose printing. It lasts for up to 120 years, is water and smudge resistant and produces ultra sharp detail on plain and specialty papers.For Epson T40W/TX550/TX300F/TX510FN/TX600FW/T1100
Features
Improved Quality for Photos - A smooth, even surface is fundamental to achieving s superior gloss finish for your photographs. With an enhanced resin that encapsulates each ink pigment particle, Durabrite Ultra creates a smooth glossy finish to photo prints when printed on Epson's Premium Glossy Photo Paper.

Plain Paper Brilliance - Exceptionally high quality colour printing on plain paper - a fact of life with Durabrite Ultra. Due to its pigment based formulation and resin encapsulation technology, Durabrite Ultra delivers sharp detail and vibrant colours, even on plain paper.

Excellent Durability - Prints that last up to 120 years on Epson Matte Paper Heavyweight. Gasfastness of more than 100 years on Epson Premium Glossy Photo Paper. Water and smudge resistance on both plain paper and Epson's range of Photo Papers.

Durabrite Ultra - Durabrite Ultra delivers superb image quality and durability for both plain paper document and photo quality printing.

Intellidge Ink System - The T1033 Magenta ink cartridge uses Epson's intellidge ink system.

Colour Shift Label Epson colour shift label T1033 Magenta ink cartridge - Its now easy for you to identify Genuine Epson ink cartridges. Epson is gradually replacing the current hologram with the new anti-counterfeit Colour Shift Label.