Epson TM-U220D POS Printer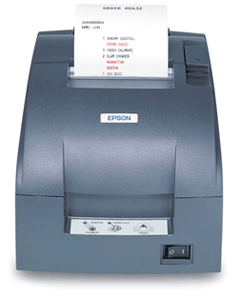 Epson TM-U220D POS Printer
TMU220D, Impact, two-color printing, 6 lps, parallel interface. No auto-cutter, No journal take-up, with power supply. Order cables separately. Color: white / black

Pay only P 1,317 a Month for 12 months.
Or pay only P 2,494 a Month for 6 months.
Installment promo is available for locally issued credit cards
Card holder must transact inside an Asianic store to avail of the installment
Features
the Epson TMU220 series are optimized for high-speed throughput so customer receipts and kitchen orders print faster than ever. For maximum efficiency, the TMU220 D (no cutter, no journal take-up) offer drop-in paper loading and two-color, black and red printing to highlight special offers and print more visible logos, and an adjustable paper width feature that allows you to use 58, 70 or 76mm paper rolls for more flexibility and greater cost savings.
- Print speeds up to 4.6 lines-per-second
- Drop-in paper load – a feature introduced for the first time to EPSON impact dot matrix receipt printers, which allows effortless changing of paper rolls
- Features daughter board connectivity option – gives you access now or in the future to EPSON's range of interfaces, including serial, parallel, USB, Ethernet and wireless 802.11b
- Wall mounting option – allows the EPSON TM-U220 to be mounted on the wall, ideal for hospitality applications.
- Increased data buffer at 4KB
Other features include a paper end detector that automatically alerts the user when the printer is out of paper, a manual cutter and the ability to print one original plus two copies.
Technical Specifications