Pay only P 15,061 a Month for 12 months.
Or pay only P 28,524 a Month for 6 months.
Installment promo is available for locally issued credit cards
Card holder must transact inside an Asianic store to avail of the installment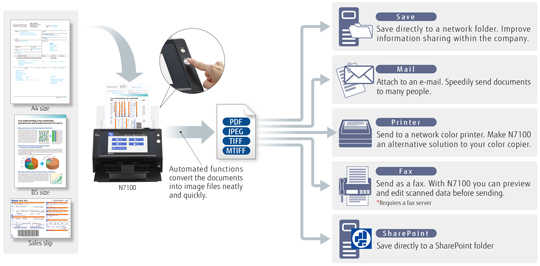 Easy Stand-alone Network Operation with Large Display
Large size screen with integrated on-screen keyboard and PC functions are equipped in this compact network scanner. It can be used in the office or a teller window where space is limited. The user can perform scanning, data saving and transmission without the need to operate from a computer.
- Quick scanning speed that supports plastic card 
Scanning speed is consistent at 25 pages per minute (ppm) even when scanning full A4 color, double-sided, at 300dpi. N7100 is equipped with accurate and stable feeding mechanisms that support scanning from thin paper to thick paper, and plastic card. Plastic ID card and application forms can be scanned together easily at a teller window of banks or hospitals.
- Less waiting time to achieve stress free scanning 
In order for the user not to feel any stress, the image processing after scanning is quick thanks to the enhanced CPU/memory. The time from the start of scanning to the finish including image processing (when the preview of the last scanned page appears) is 50% shorter than the previous model(1). For regular scanning routines, only one touch of the scan button is necessary which greatly improves the productivity.
- High security assuming to be shared by multiple users 
The N7100 achieves high security on the premise that it is shared by multiple users. Not only verification before scanning, but also encryption while processing and data deletion after scanning are performed automatically. Users can use the network scanner with peace of mind.
Login authentication strictly controls what people can do with the scanner.
Scanned data can be output as password-protected PDF files.
Advanced security measures guard scanned data from prying eyes.
- Encryption 
N7100 encrypts and temporarily stores scanned data locally during processing for e-mails, faxes, printing and network storage.
- Scanned data deletion 
After scanned data has been e-mailed, faxed, printed out or saved to a network folder N7100 automatically deletes the temporarily stored data from its internal memory. Even if an error results in the data remaining in the memory, it is then automatically erased the next time the scanner is started up.
- Secure Initialize 
When N7100 is initialized, free regions of the internal memory can be overwritten with completely random, meaningless data. As an added security measure, a new cipher key is generated after the user information is deleted. All of this ensures that no trace of old user data can be retrieved from open memory.
Perfect Fit Customized to Your Unique Needs
n7100-job-menuAdministrators can customize the touch panel job menu and scan settings of N7100 to suit the work of a specific user or user group registered to the scanner. The user's application can be integrated to the scanner as add-in software using the exclusive SDK (for Windows). N7100 comes with an open USB port to connect a keyboard or other USB devices(2) (except USB memory). N7100 can be customized to be a terminal exclusively for your operation.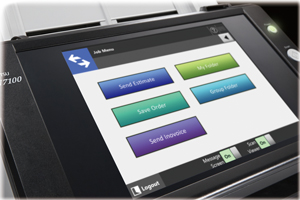 *To satisfy the security policy, anti-virus software can be installed as an option to safely expand the functions.
*The SDK (software development kit) allows for the development of scanner controlled workplace applications. The Network Scanner Control SDK is free to download. Support scheme is different by each sales region.
High Quality Results Perfectly Suited for OCR
The scanner driver PaperStream IP, which supports TWAIN saves the hassle in fine adjusting the document for OCR processes. It automatically converts the images into exceptionally clean images, accelerating OCR even when scanning wrinkled/soiled document or documents with a background.
Automated functions take the work out of scanning
Advanced automated functions ensure N7100 digitizes your documents with remarkable precision and efficiency. Produce beautiful scans quickly with barely the need to lift a finger.
Auto Orientation
Color Detection
Auto Deskew
Paper Size Detection
Blank Page Removal
Marker Index 
* This function detects words marked with a highlighter and embeds them as keywords in PDF files.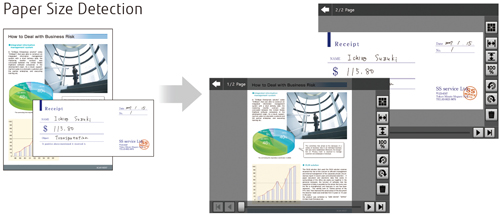 Versatile range of use from SOHO to large enterprises
Connects with a variety of server types 
N7100 easily satisfies the digitizing needs of small office networks which use a file server and e-mail server. It is also right at home with more complex LDAP/LDAPS authentication-based networks, integrated with Microsoft Exchange Server, SharePoint and other application hubs.
Set up and manage multiple N7100 scanners at one time 
N7100 offers administration functions that allow you to individually or collectively setup and manage a vast network of N7100 units with ease from a single console.
- Network Scanner Admin Tool 
The Admin Tool function allows you to adjust running environment settings one scanner at a time.
- Scanner Central Admin Console/Scanner Central Admin Server 
Collectively monitor and manage scanner usage, settings and much more for multiple N7100 units through the Scanner Central Admin Server function.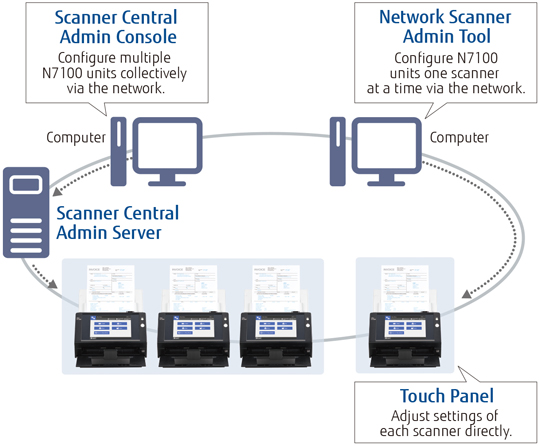 1. Time to scan 10 A4 sheets in color. Time from pressing the "scan" button until the completion of image processing (preview image of the last page appears) is 50% shorter compared to the predecessor N1800 (52 seconds reduced to 24 seconds) 
2. Output resolution: 200dpi, Output file format: Multi-TIFF 
Image Processing: Auto color detection, Automatic page size detection, Rotation, Blank page skip, Multifeed detection
Only standard keyboard with layout of 109(Japanese) and 102(English) are supported. When using with other USB devices such as IC card reader, development of Add-in application using Network Scanner Control SDK (free download) is necessary.
Technical Specifications
Scanner type
:
ADF (Automatic Document Feeder), Duplex scanning
Scanning modes
:
Color, grayscale, monochrome, automatic (color / grayscale / monochrome detection)
Image sensor type
:
Color CIS x 2 (front x 1, back x 1)
Light source
:
3 Color LED (Red / Green / Blue)
Multi-feed detection
:
Supported (Standard) ultrasonic multi-feed defection sensor
Carrier Sheet
:
A4, A5, A6, B5, B6, Business card, Post card, Letter, Legal and Custom sizes 
(Max: 216 x 355.6 mm (8.5 x 14.17 in.), Min: 50.8 x 50.8 mm (2 x2 in.)) 
Automatically recognizes document size
Carrier Sheet
:
Use of a Carrier Sheet permits the scanning of A3, B4, 11 x 17 in., and 
photographs as well as the documents sizes that are listed above
Long paper 
scanning(Maximum)
:
3,048 mm (120 in.) (2)
Paper weight (Thickness)
:
40 to 209 g/㎡ , or 11 to 56 lb (paper thickness 0.049 to 0.257 mm) 
- A8 size: 127 to 209 g/㎡ , 34 to 56 lb (paper thickness 0.157 to 0.257 mm)
- Cards* can be used. (thickness 0.76 mm or less)
- Embossed cards*: useable 
Scanning 
speed 
(A4 Portrait)
Color
 / Greyscale / Mono
:
Simplex: 25 ppm (200, 300 dpi) 
Duplex: 50 ipm (200, 300 dpi)
Paper chute capacity
:
50 sheets (Letter/A4, 80 g/㎡ or 20 lb) (Active loadable ADF)
Expected daily volume
:
1000 sheets/day
Optical resolution 
:
600 dpi
Color
 / Greyscale / Mono
:
150 / 200 / 300 / 600 dpi
Output methods

:
Save image data to network folder/FTP server
Send image data by E-mail
Print (Sends image data to printer server)
Send image data by FAX (Sends image data to FAX server in E-mail format)
Save image data to SharePoint portal server
Output file formats
:
PDF(Searchable / Password-protected / compressed / Marker Index processed), 
JPEG, TIFF(single / multi-page), page output in reverse order
Authentication
:
User authentication: 
Active Directory or Open LDAP(for Solaris or Linux), Standalone authentication (6)
Active Directory or Open LDAP(for Solaris or Linux)
Network interface
:
10BASE-T, 100BASE-TX, 1000 BASE-T
Network protocols
:
TCP/IP(IPv4 / IPv6 (7) ), DNS, DHCP, SMTP, SMB, LDAP, NTP, FTP, HTTP, SNMP
Scanner Central Admin Server:
Windows® 2003, 2008, 2008 R2, 2012, 2012 R2 Server required
Network Server Authentication:
Windows® 2003, 2003 R2, 2008, 2008 R2, 2012, 2012 R2 Server or open LDAP
Power requirements
:
AC 100 to 240 V ±10%
Power consumption
:
Operating mode: 38 W or less 
Sleep mode: 2.0 W or less 
Auto Standby (off) mode: 1.0 W or less
Operating environment
:
Temperature: 5 to 35°C (41 to 95°F) 
Relative humidity: 20 to 80% (Non-condensing)
Dimensions: WxDxH
:
300 x 232 x 172 mm (11.8 x 9.1 x 6.8 in.)
Weight
:
6 kg or less (28.7 lb)
Environmental compatibility
:
ENERGY STAR® / RoHS
Display
:
LCD
8.4 inch XGA (1,024 x 768 pixels) TFT Color monitor
Touch panel
Analog resistive touch panel
Keyboard
:
Software keyboard