Pay only P 2,999 a Month for 6 months.
Or pay only P 1,604 a Month for 12 months.
0% interest promo is available for locally issued credit cards
Card holder must transact inside an Asianic store to avail of the 0% promo
Features
In Win package the 904 in a massive box which has a minimalist design and lists the key specifications of the unit. Inside, the case suspended in foam and wrapped in a fabric bag to provide protection during shipping. Provided with the case and a manual and the various screws and ties which will be useful during the install.
The 904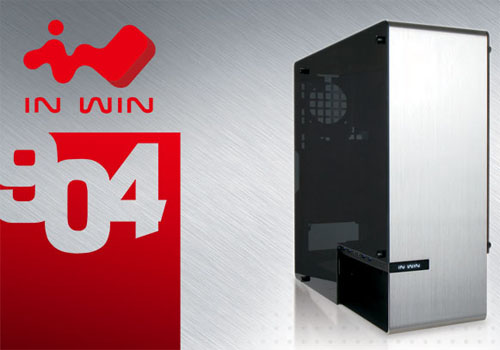 In Win have really attempted to stand out from the crowd with this case and that begins with the materials used. The top, front base and back are all a mix of 2 and 4mm aluminium, three sides of which are all one brushed metal sheet. Other than a little badge on the front and two rubber feet on the base all of the sides are completely blank which looks great and to achieve this our front panel ports have been moved to the left side. These are power button, status LED, 4x USB 3.0 and 2x 3.5mm audio in/out.
The case supports ATX and m-ATX boards and has dimensions of 490x192x490mm.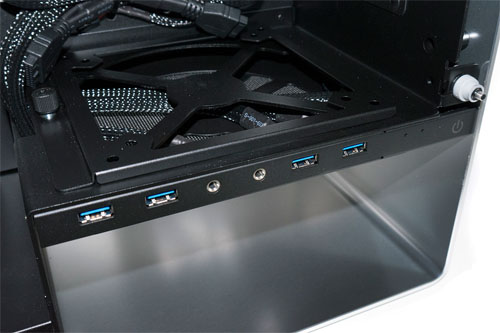 The sides of the case are single panes of tinted, tempered glass which are held in place by four thumb screws on each side. It is also possible on the sides to see the cut away section at the front edge which is the location of our optical drive bay and intake fan.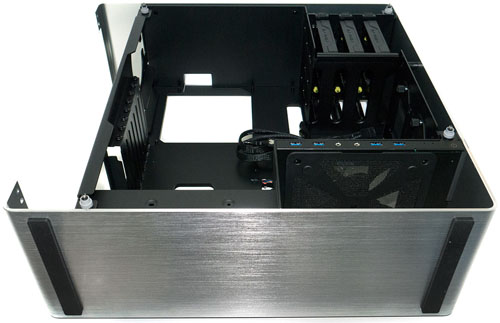 At the back of the case we see that this chassis has a large aluminium panel held in place by four thumb screws. The perforated section at the top has two uses. First is ventilation and second is a location to mount 12/14cm radiators for liquid cooling.We can also see a slot at the top and larger cut out at the base for us to pass our wiring through as the motherboard, card (8 slot) and PSU (up to 180mm) connectors are all located inside this back panel.
access the inside of the case by removing four thumbscrews on each side as well as the back which allow each panel to pull off. A CPU backplate cut-out is present for easier cooler changes and there are various other holes for wiring to use. There are no fans provided by default on this case, we need to provide our own. The main intake area is found at the front, dust filtered and pulling air in from the base and beside it, are two SSD mounting brackets. Above the SSD mounts are a further three drive brackets which support 2.5" and 3.5" drives, each with the SATA power and data cables pre-installed and braided. Elsewhere we have a back panel location for a 90mm fan and support for CPU heatsinks up to 145mm.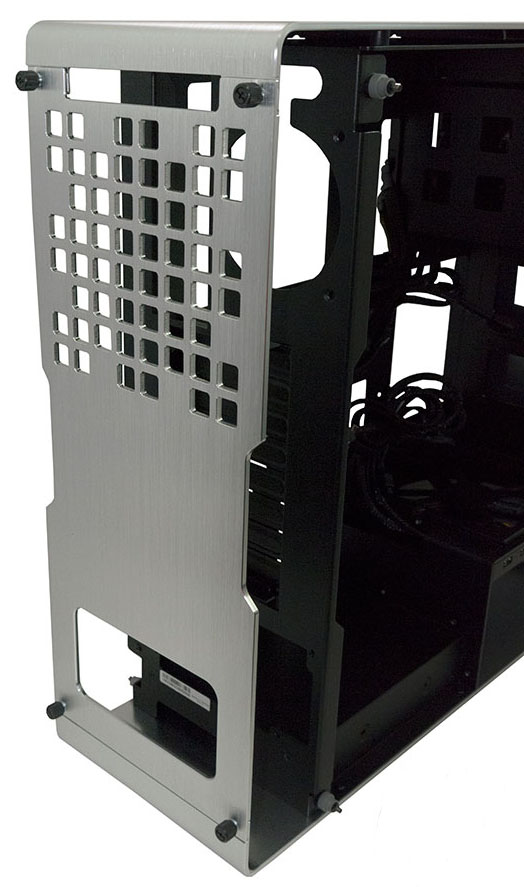 Externally it is hard to fault. The brushed aluminium looks (and feels) lovely with the tempered glass sides giving it style and build quality points over competing products. It is a case which inspires the consumer to build something inside which looks great. a case which requires a little thought and consideration when building but one which allows user to create a pretty spectacular looking system which runs cool and quiet with plenty of flexibility on the component choice.
Technical Specifications
Material
2mm/4mm Aluminum
Tempered Glass
External Drive Bay
5.25" x 1
Internal Drive Bay
3.5" / 2.5" SATA HDD EZ-Swap Module x 3
2.5" x 2
M/B Form Factor
ATX, m-ATX
Power Supply
ATX 12V, PSII and EPS (Up to 180mm)
I/O Port
USB 3.0 x 4, HD Audio
I/O Expansion Slot
PCI-E / PCI / AGP Slot x 8
Supports High-end Graphic Card Up to 360mm
Thermal Solution
Supports
- 90mm Rear Fan x 1
- 140mm Bottom Fan x 1
- 120/140mm Liquid Cooling Radiator
- CPU heatsink up to 145mm
Dimension (HxWxD)
490 x 192 x 490mm
19.3" x 7.6" x 19.3"