IN WIN Commander III 700W 80+ Gold Modular Gaming Power Supply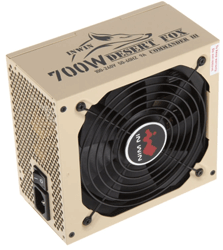 IN WIN Commander III 700W 80+ Gold Modular Gaming Power Supply
Modularized cable management system, 6+2pin PCI-E connectors for multi-GPU graphic cards, Four independent +12V outputs, +5V and +3.3V DC to DC design, Intelligent fan speed control for optimal acoustic, 135mm double ball-bearing ultra long-life fan, 4pin Molex easy-swap connectors.

Pay only P 1,166 a Month for 6 months.
Or pay only P 624 a Month for 12 months.
0% interest promo is available for locally issued credit cards
Card holder must transact inside an Asianic store to avail of the 0% promo
Features
Native to the North African region, the Fennec Fox is a small desert dwelling nocturnal creature that has adapted very well in high-temperature environments. It has distinctly large ears which not only serves to make the Fennec Fox look absolutely adorable, but also helps it dissipate heat much more efficiently and hear movement of possible prey underground. It is the smallest species of canid in the world yet it is a highly capable predator even on such a harsh environment, proving once again that size is not always a decisive factor of capability.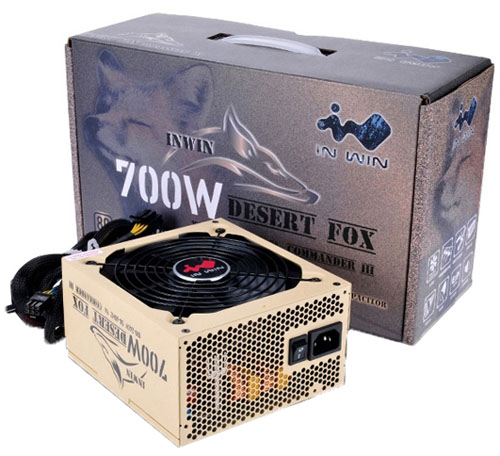 These are also some of the properties I look for when it comes to power supplies. Unfortunately, bulk and a heavy weight can often be expected from high-capacity, high-efficiency PSU offerings. These are also often paired with high-RPM fans to sufficiently cool the internal components, which in turn produce a lot noise.  Aware of these issues, and taking some cues from the desert fox, InWin set out to design their 3rd generation Commander series in-house and created a power supply unit that is small yet highly capable.
The In Win Commander III Desert Fox power supply is a hybrid modular unit that has quad +12V rails with 25A max output and carries an 80 Plus Gold efficiency rating at 50C. The In Win Commander III Desert Fox 700W power supply uses +5V and +3.3V DC-to-DC design and supports the C6/C7 states of the new Intel Haswell processors. All the cables on the 700W In Win Commander III Desert Fox are sleeved and four 6+2 pin PCI-connectors are available supporting NVIDIA SLI or AMD CrossFireX.  The 700W Commander III PSU uses 105C Japanese capacitors on the primary filter and the unit also features over-current, over-voltage, over-power, under-voltage and short-circuit protection.  The In Win Commander III 700W power supply also has MTBF rating of >120,000 Hours.
Modularized cable management system
6+2pin PCI-E connectors for multi-GPU graphic cards
Four independent +12V outputs
+5V and +3.3V DC to DC design
Intelligent fan speed control for optimal acoustic
135mm double ball-bearing ultra long-life fan
4pin Molex easy-swap connectors
Independent +12V feedback circuit design for improved reliability
105 degrees C high-quality Japanese bulk capacitor ensures reliability and superior performance
Multiple output protector: OCP, OVP, OPP, UVP and SCP
3 oz. copper PCB: lower impedance increases efficiency and electrical current flow
Full range active power factor corrector (PF>0.99)
Supports the latest ATX12V V2.31 & EPS12V V2.92
MTBF>120,000 hours
ErP Lot 6 Compliant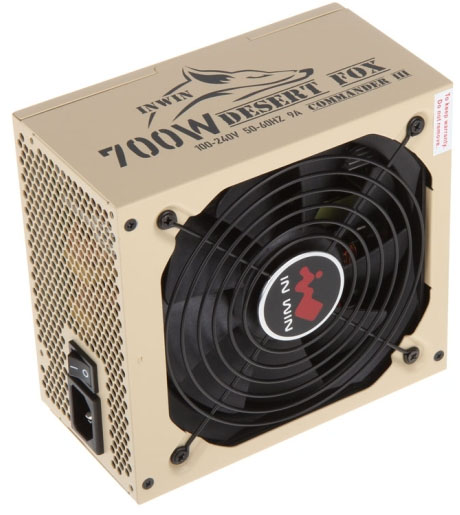 Technical Specifications
Name
Commander III
Type
ATX 12V 2.31 / EPS 12V 2.92 Version
Total Power
700W Real Wattage
PFC
Full Range Active PFC(PF>0.99)
Fan
Silent 135mm Double Ball-Bearing Fan
Efficiency
20% Load >87% / 50%Load >90% / 100%Load >87%
MTBF
>120,000 Hours
Full Protection
OVP / OCP / OPP / UVP / SCP
Dimensions (WxLxH)
150 x 160 x 86 mm
AC Input
100V-240Vac,
50-60Hz, 8A/9A/10A
Certification
UL/cUL, TUV, CB, C-Tick, BSMI, PCT, KCC, CE, FCC,  80 PLUS Gold