Intel Core i7-9700 BOXED Processor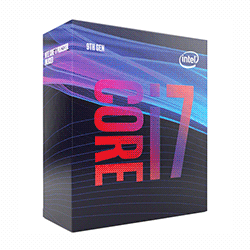 Intel Core i7-9700 BOXED Processor
3.0GHz up to 4.7GHz Eight-Core 8 Thread LGA 1151 Desktop Processor

Pay only P 1,977 a Month for 12 months.
Or pay only P 3,744 a Month for 6 months.
Installment promo is available for locally issued credit cards
Card holder must transact inside an Asianic store to avail of the installment
The eight-core, eight-thread Core i7-9700 Processor from Intel boasts a 3.0 GHz clock speed and a 4.7 GHz maximum boost speed. Compatible with LGA 1151 motherboard sockets, this 9th-generation Core i7 CPU has a 12MB Intel Smart Cache and supports DDR4-2666 memory as well as Intel Optane Memory. The processor also comes with an integrated Intel UHD Graphics 630 core. This R0 stepping of the Core i7-9700 includes fixes for variants 2 (Branch Target Injection) and 4 (Speculative Store Bypass) of the Spectre/Meltdown vulnerability.
Technical Specifications
    9th Gen Intel Processor
    Intel UHD Graphics 630
    Only Compatible with Intel 300 Series Motherboard
    Socket LGA 1151 (300 Series)
    Max Turbo Frequency 4.7 GHz
    DDR4 Support
    Intel Optane Memory and SSD Supported
    Intel Turbo Boost Technology 2.0 and Intel vPro technology offer high performance for enthusiast gaming, creating, and overall productivity