Intel NUC DC3217IYE Mini PC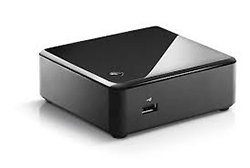 Intel NUC DC3217IYE Mini PC
Intel® Core™ i3 processor, Intel® QS77 Express Chipset, 4GB DDR Memory, Intel HD Graphics, 60GB Storage Capacity, Dual HDMI* ports supporting HDMI 1.4a output, Windows 8 Pro

Pay only P 2,416 a Month for 12 months.
Or pay only P 4,832 a Month for 6 months.
0% interest promo is available for locally issued credit cards
Card holder must transact inside an Asianic store to avail of the 0% promo
Features
Intel NUC Core i3-3217U Boards and Kits
Intel\'s Next Unit of Computing Board D33217CK and D33217GKE are tiny 4\"x4\"x1.5\" devices with the power of the 3rd generation Intel Core™ i3-3217U processor. The board features dual HDMI ports to offer dual display capabilities along with five USB ports. D33217CK includes a Thunderbolt adapter to provide expandability and scale unseen in this form factor. D33217GKE an Intel gigabit Ethernet adapter to provide expandability and scale unseen in this form factor. DC3217BY and DC3217IYE are NUC kits in a diminutive 4\"×4\"×2\" form factor and equipped with the Third Generation Intel Core i3 processor. DC3217BY delivers stunning visuals and responsive performance from a pocket-sized solution. DC3217IYE provides lower power consumption that enables innovative system designs and energy-efficient applications in places like digital signage, home entertainment, and portable uses.

Intel NUC  Boards and Kits
Intel\'s NUC family of kits and boards puts the world in the palm of your hand. Powered by either Intel Celeron® processors or 3rd and 4th generation Intel Core™ processors on a four-by-four-inch motherboard and enclosed in a tiny case, these next-generation computer kits are big on performance yet surprisingly small in size. From digital signage to customer service kiosks, from home theater systems to digital jukeboxes, Intel NUC is an intelligent device for small spaces or anywhere else you can imagine.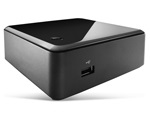 Technical Specifications
| | |
| --- | --- |
| Processor | Intel Core i3-3217U |
| Chipset | QS77 Express |
| Frequency: | 1.8 GHz |
| Memory Size | 4GB 1333/1600 MHz, 16 GB maximum |
| Display | Dual HDMI* ports supporting HDMI 1.4a output |
| Audio | Intel  High Definition (Intel  HD Audio )in the following configuration : 8-channel (7.1)digital audio via one HDMI 1.4a output |
| Storage | 60GB m-SATA |
| Expansion capabilities | 2x mini-PCIe* slots (1x half-length + 1x full/half-length) |
| Operating Supply Voltage | 19 V |
| Maximum Operating Temperature | + 55 C |
| Dimensions | 4 in x 4 in |
| Peripheral Interfaces | Five USB 2.0 ports (3 external ports, 2 via internal header |
| Operating System | Windows 8 Professional UPack |