JBL On Time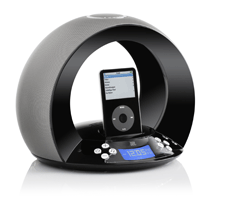 JBL On Time
Frequency Response: 70Hz - 20Hz, Signal-to-noise Ratio: >80dB, Input Impedance: >5K ohms, Power output: 6watts per channel, Drivers: One ridge and two Phoenix neodymium drivers

Pay only P 941 a Month for 12 months.
Or pay only P 1,782 a Month for 6 months.
Installment promo is available for locally issued credit cards
Card holder must transact inside an Asianic store to avail of the installment
JBL On Time™ – Wake Up. Rock Out.
JBL On Time is a high-performance sound center that lets you wake up to music stored on your iPod®. Just connect your iPod, MP3 player or other music source to JBL On Time and experience clean, powerful and dynamic sound. The upward-firing tweeter and horizontal low and midrange transducers provide a 360-degree sound field. JBL On Time includes a radio, clock and dual alarm, and is the world's first time machine to include a menu-driven, intuitive user interface.
Compatibility – JBL On Time incorporates the Apple® iPod Universal Dock adapter, and is compatible with most docking versions of the iPod, including nano and 5G versions. A stereo mini jack connection allows you to enjoy high-quality audio from a variety of other devices, including the iPod shuffle™, MP3 and CD players, desktop and laptop computers (all platforms), and satellite radio.

Easy-to-Use Music and Navigation Controls – Just a touch increases or decreases the volume; another touch allows you to choose iPod, radio or auxiliary as your source. The five FM and five AM radio channel presents are simple to program. And JBL On Time remembers your source and the last volume setting, even after your music source is turned off.

Time and Alarm Features – Wake up to a favorite song you've stored on your iPod. The intuitive user interface allows for all functions to be programmed easily using navigation buttons that provide instant access to the menus. Change settings such as language, alarms and snooze. The automatic time-set feature provides one-button time setting.

Display – The large backlit LCD is easy to read, making menu navigation a snap. Automatic dimming provides the correct brightness level in any environment. A dome light provides a glow for your iPod; lighted buttons are easy to find in the dark.

Additional Features – Halo acoustics – The horizontal level optimization, or Halo acoustics, design provides a full, rich sound field from any direction. The upward-firing tweeter and horizontal low and midrange transducers provide a 360-degree sound field.

OnePoint design – The OnePoint iPod connectors provide the connection to your computer. Connect the standard iPod cable to the rear of JBL On Time and, every time your dock your iPod, you'll have a connection for synchronizing.

Evercharge topology – JBL On Time provides power to charge your iPod, even when it's not connected to the computer, or the system is off.

Backup battery – JBL On Time's memory is kept by a backup battery option. Even with the power out, JBL On Time will provide the alarm function.

TimeCrawler – JBL On Time is capable of setting the clock automatically from any local radio station that transmits the time in its signal.

Advanced Technology – The JBL On Time combines many proprietary technologies to provide the highest quality sound, and reproduces astonishing bass and clear, accurate sound from any direction.

JBL Phoenix and JBL Ridge transducers – The two Phoenix aluminum-domed full-range transducers are driven by powerful neodymium magnets. The Ridge tweeter provides accurate high frequencies. This two-way design provides a full, rich frequency response from the lowest bass to the highest highs.

COE (Computer-Optimized Equalization) – The JBL On Time system equalization has been computer-optimized to provide a rich, complete soundstage.

OCT (Optimized Compression Topology) – The JBL On Time utilizes a proprietary compression technology to ensure clean, accurate sound at high-output levels.
Technical Specifications
Drivers
One Ridge and two Phoenix neodymium drivers
Power Output
6 Watts per channel (left, right, tweeter)
Connections
Main Connection – iPod docking connector
Auxiliary – 1/8" (3.5mm) Mini stereo jack
Subwoofer Out
Frequency Response
70Hz – 20kHz
Input Impedance
>5k Ohms
Signal-to-Noise Ratio
>80dB
Voltage Input
120V AC U.S., 100V AC Japanese, 230V AC Europe
Dimensions
Diameter – 10" (254mm)
Height – 10" (254mm)
Weight
2.5 lb (1.2kg)