JBL Radial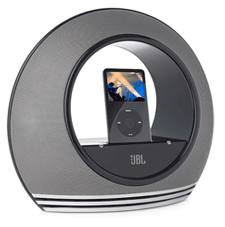 JBL Radial
Frequency Response: 40Hz – 20KHz, Input Impedance: >10Kohm, Signal-to-Noise Ratio: >85dB, Ipod Docking Connector, Phoenix neodymium drivers, Drivers: Four Odyssey™, Power Output:2 x 15 watts 1 x 30 watts

Pay only P 1,223 a Month for 12 months.
Or pay only P 2,317 a Month for 6 months.
Installment promo is available for locally issued credit cards
Card holder must transact inside an Asianic store to avail of the installment
Surround your iPod® with legendary JBL® sound. JBL Radial delivers clean, powerful high- and mid-frequency sound — and plenty of deep, distortion-free bass — from a compact device with almost unlimited versatility. As a music system, JBL Radial stands alone. As a computer peripheral, it replaces (and seriously upgrades) your external speakers and subwoofer. And as a multimedia entertainment center, it even sends your iPod photos and video to a TV monitor. But however and wherever you use it, it's the sound that sets JBL Radial apart.
Compatibility – JBL Radial incorporates the Apple® iPod Universal Dock adapter, and is compatible with most docking versions of the iPod, including nano and 5G versions. A stereo mini jack connection allows you to enjoy high-quality audio from a variety of other devices, including the iPod shuffle™, MP3 and CD players, desktop and laptop computers (all platforms), and satellite radio.

Full-Navigation Remote – The wireless RF remote control provides the freedom to enjoy your music from across the room or in another room, or outside, from up to 20 feet. With full access to your iPod you can easily change tracks, browse libraries, adjust settings, and scroll through extras.
Technical Specifications
Drivers
One low-frequency neodymium and four Odyssey® full-range drivers
Power Output
2 x 15 Watts, 1 x 30 watts
Connections
Main connection – iPod® docking connector
Auxiliary – 1/8" (3.5mm) Mini stereo jack
Video Out
Frequency Response
40Hz – 20kHz
Input Impedance
>10k Ohms
Signal-to-Noise Ratio
>85dB
Voltage Input
120V AC U.S., 100V AC Japanese, 230V AC Europe
Dimensions
Width – 12" (305mm)
Height – 10.5" (267mm)
Weight
2.5 lb (1.2kg)