JBL Soundsticks II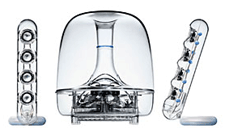 JBL Soundsticks II
3-Piece Plug & Play Multimedia System, Frequency Response: 44Hz-20kHz, Subwoofer Output: 20Watts, Satellite Power: 10Watts Per Channel, Drivers: Four Odyssey™

Pay only P 752 a Month for 12 months.
Or pay only P 1,425 a Month for 6 months.
Installment promo is available for locally issued credit cards
Card holder must transact inside an Asianic store to avail of the installment
Harman Kardon's SoundSticks II three-piece speaker system produces high-quality stereo sound for Music, MP3's, movies and gaming experiences.
SoundSticks II encourages consumers to step out of the ordinary speaker world and offers sound in an original and unique package. The system, described as curvy, sleek and sexy, provides consumers with sound that is loud and clear.
SoundSticks II employs a new computer-optimized multi-band parametric equalization and Harman's unique "capacitance touch" control buttons on the right satellite allow for direct access to volume control
Technical Specifications
Satellite
Transducers
(4) 1 - inch full range per channel
Amplifier Power Output
10 W RMS per channel
Dimensions
2" (50.8 mm) diam. x 10" (254 mm)
Weight
1.47 pounds ≤ 0.67 kg
Subwoofer
Woofer Size
6" (150mm)
Amplifier Power Output
20 W RMS
Dimensions
9.15" (232 mm) diam. x 10.16" (258 mm)
Weight
4.93 pounds ≤ 2.24 kg
General
Frequency Range
44Hz-20kHz
Power Consumption
4 W idle, 65 W maximum
Interface
Analog (3.5mm)