JBL Spyro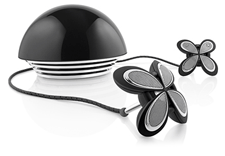 JBL Spyro
3-Piece Plug & Play Multimedia System, Frequency Response: 40 - 20kHz, Subwoofer Output: 24 Watts, Power Rating: 6 watts per satellite, Input Sensitivity: >400MV RMS, Signal-to-Noise Ratio: >80dB, Touch Volume Control, Available Color : Black and White

Pay only P 376 a Month for 12 months.
Or pay only P 712 a Month for 6 months.
Installment promo is available for locally issued credit cards
Card holder must transact inside an Asianic store to avail of the installment
JBL Spyro™ – Three-Piece Powered Satellite Speakers and Subwoofer System
JBL Spyro is a powerful, compact 2.1-channel system that looks and sounds like no other personal sound system out there. With a pair of delicately beautiful satellites and an innocent-looking subwoofer, JBL Spyro components may bring shrinking violets to mind. But they're engineered to pound out rich, authoritative JBL® sound from nearly any multimedia source.
Easy-to-Use Touch Controls: One touch increases or decreases the volume; one touch mutes or unmutes the system. A single control lets you adjust subwoofer output. And JBL Spyro remembers your previous settings every time the system is powered on.
Compatibility: A stereo mini jack easily connects JBL Spyro to a variety of multimedia devices with a minimum of desktop wiring. Enjoy high-quality audio from desktop and laptop computers (any platform), iPod® and other MP3 players, satellite radio, game consoles – you name it.
The powerful and efficient subwoofer provides clean, low bass.
Technical Specifications
Speaker System
Input Impedance
>5k Ohms
Signal-to-Noise Ratio
>80dB
Frequency Response
40Hz – 20kHz
Input Sensitivity
400MV RMS for rated power
Voltage Input
120V AC
Satellite
Drivers
Two Odyssey® transducers
Power Rating
6 Watts per satellite at 10% (THD+N)
Dimensions (H x W x D)
Diameter – 3.5" (90mm) Height – 3.5" (90mm)
Subwoofer
Drivers
One Atlas™ transducer
Power Rating
24 Watts at 10% (THD+N)
Dimensions (H x W x D)
Diameter – 8" (200mm); Height – 5.5" (140mm)