Kingston HyperX Fury RGB 16GB Kit 3200Mhz DDR4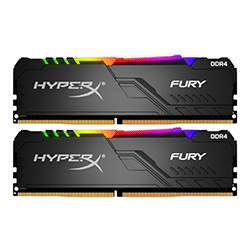 Kingston HyperX Fury RGB 16GB Kit 3200Mhz DDR4
HyperX HX432C16FB3AK2/16 is a kit of two 1G x 64-bit (8GB) DDR4-3200 CL16 SDRAM (Synchronous DRAM) 1Rx8, memory module, based on eight 1G x 8-bit FBGA components per module. Each module kit supports Intel® Extreme Memory Profiles (Intel® XMP) 2.0. Total kit capacity is 16GB

Pay only P 753 a Month for 12 months.
Or pay only P 1,426 a Month for 6 months.
Installment promo is available for locally issued credit cards
Card holder must transact inside an Asianic store to avail of the installment
HyperX® FURY DDR4 RGB1 delivers a boost of performance and style with speeds of up to 3466MHz2, aggressive styling, and RGB lighting that runs the length of the module for smooth, stunning lighting effects. FURY DDR4 RGB is XMP-ready and available in 2400MHz–3466MHz speeds, CL15–16 latencies, single module capacities of 8GB and 16GB, and kit capacities of 16GB–64GB to give you a performance boost for your gaming, video editing, and rendering.