Kingston ValueRAM 16GB 3200MHz DDR4 Sodimm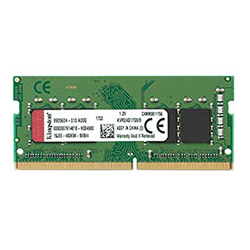 Kingston ValueRAM 16GB 3200MHz DDR4 Sodimm
Kingston ValueRAM 16GB 3200MHz DDR4 CL22 260-Pin SODIMM Laptop Memory (KVR32S22S8/16)

Pay only P 470 a Month for 12 months.
Or pay only P 891 a Month for 6 months.
Installment promo is available for locally issued credit cards
Card holder must transact inside an Asianic store to avail of the installment
Technical Specifications
Capacity: 16GB sodimm
Frequency Speed: 3200MHz
CL(IDD): 22 cycles
Maximum Operating Power: TBD W*
UL Rating: 94 V - 0
Operating Temperature: 0°C to +85°C
Storage Temperature: -55°C to +100°C
*Power will vary depending on the SDRAM used.