LG 19M38A-B 18.5-inch Monitor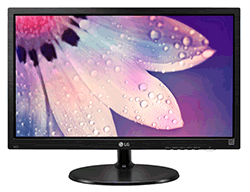 LG 19M38A-B 18.5-inch Monitor
18.5-inch TN LED (1366X768) HD, Reader Mode, Flicker Safe, On Screen Control, Color Weakness Mode

Pay only P 357 a Month for 12 months.
Or pay only P 677 a Month for 6 months.
Installment promo is available for locally issued credit cards
Card holder must transact inside an Asianic store to avail of the installment
Protect Your Eyes and View in Comfort
Did you know that your eyes are affected by flickers on the monitor while you may not have seen them? Over time, working, gaming and movie viewing can cause eye strain and fatigue. But, Flicker Safe and Reader Mode helpmaximize visual comfort by protecting your eyes from harmful blue light and reducing the flicker level to almost zero.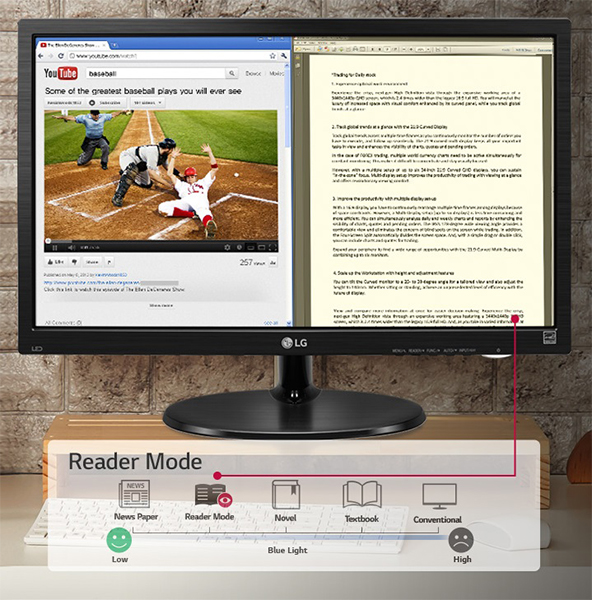 Preset Customized Options with just a Click
OnScreen Control allows you to modify your screen configuration by a few clicks without forcing physical buttons built in monitor. My Display Presets offers customized picture mode for specific software.It has automatically applied to picture mode you already preset. You don't need to select the picture mode each time.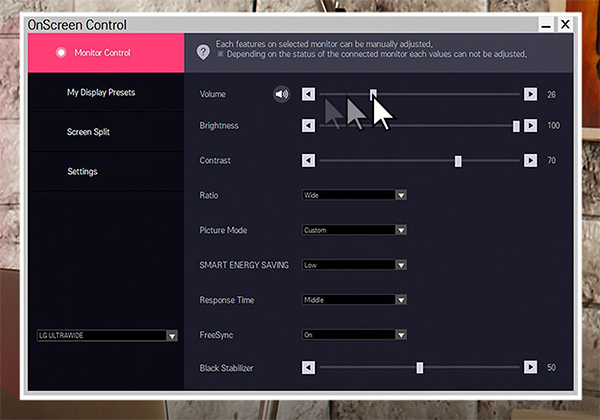 Customize Your Workspace for Multitasking
Screen Split divides the display into multiple sections for different tasks by resizing the windows on the screen. Its advanced options have expanded to include 4 types of Picture-in-Picture(PIP) Mode among 14 options. With PIP Mode you can work on the main screen while watching a video in a smaller window floating on the screen.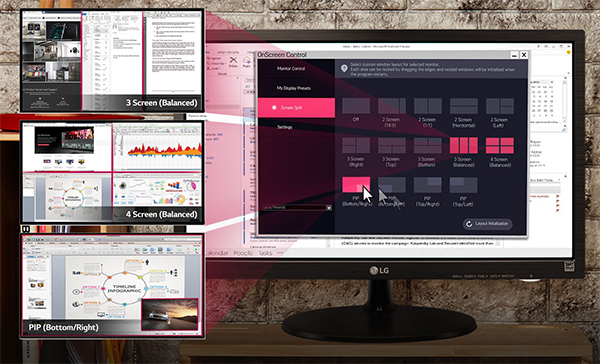 Offers Improved Color Vision to Color Weakness
Color revision algorithms are used to help those with color weakness who have difficulty distinguishing certain ranges of colors can view all the important content.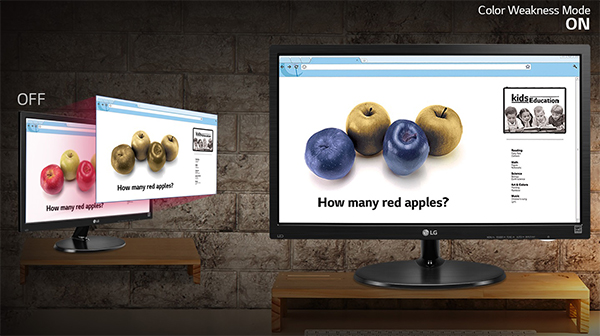 Technical Specifications
Basic
Size(cm)
:
18.5 / 47cm
Color Gamut (CIE1931)
:
72%
Color Depth(Number of Colors)
:
16.7M colors
Resolution
:
1366 x 768
Brightness(Typ.)
:
200cd/m2
Contrast Ratio(DFC)
:
Mega
Response Time_Typ.(on/off)
:
5ms
Surface Treatment
:
Anti glare ,3H
Signal Input
[ Jack Location ]
;
Back
Power Input/Output
Input
;
100-240Vac, 50/60Hz
Power Consumption
Sleep Mode(Max)
:
0.3W
D-sub
H-Frequency
:
30 ~ 61kHz
V-Frequency
:
56~75Hz
PC
Control Key
Key Number (Power Key Included)
:
6
Key Type
:
Tact Type
[Key Location]
:
Bottom
Languange
Country
:
English, Germanic, French, Spanish, Italian, Swedish, Finnish, Portuguese, Polish,
Russian, Greek, Chinese, Japanese, Korean, Ukrainian, Portuguese(brazil), Hindi
Number of Language
:
17
Picture
General Function
Intelligent Auto (Auto Resolution)
:
Yes
Special Feature
Smart Energy Saving
:
Yes
On Screen Control
:
Yes
Color
Front
:
Black Hairline
B/Cover
:
Black texture
Stand
:
Black High Glossy
Base
:
Black Hairline
Stand
Tilt (Angle)
:
Yes / -5º (front) ~ 20º(rear)
Dimension( WxDxH)(mm)
Set (with Stand)
:
441.3 x167.8 x350.2
Set (without Stand)
:
441.3 x 57.3 x 278.1
Wall Mount size (mm)
:
75 x 75
Weight(Kg)
Set (with Stand)
:
2.1kg
Set (without Stand)
:
1.9kg
Standard
Windows
:
Yes (win10)
Energy Label(VEELS HK EMSD)
:
Yes(Grade 1)
Accessory