Logitech R-20 Subwoofer Speaker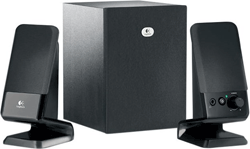 Logitech R-20 Subwoofer Speaker
Experience full bass in a compact design. Enhance your games, music, and movies with deep bass by connecting these speakers to PCs, CD and MP3 players. Total FTC power: 12 watts RMS, Sub-woofer: 6 watts RMS, Satellites: Left & Right: 3 watts RMS x 2, Total Peak power: 24 watts
Features
Audio Quality - Immerse yourself.
* Ported Subwoofer with 4" Drivers: Enjoy deeper bass thanks to greater air displacement.
* High-excursion Drivers: Get rich, full sound from compact speakers.
* Shielded Satellites: Don't worry about interference from your monitor or TV.
Convenience - Simplify life.
* Stereo Headphone Jack: Enjoy your music privately whenever you want.
* Plug and Play: Easily connect to PCs, CD and MP3 players.
Technical Specifications
Model
Brand
Logitech
Model
R-20
General SPEC
Configuration
2.1
Satellite RMS Power
Left & Right: 3 watts RMS x 2 (into 4 ohms, @ 1khz, @ 10% THD)
Dimension (L x W x H):
Satellite Speakers: 7.75" x 3" x 3"
Subwoofer: 7.5" x 5.5" x 6.25"
Subwoofer RMS Power
6 watts RMS (into 4 ohms, @ 100Hz, @ 10% THD)
Frequency Response
40Hz ~ 20kHz
Maximum Power
Total RMS power: 12 W RMS
Total peak power: 24 W
Drivers:
Satellites: 2" high-excursion driver
Subwoofer: 4" High-excursion driver
Package Contents
Logitech® R-20: 2 satellites, 1 subwoofer
Colour-coded audio cables
User manual
Signal to Noise Ratio
> 70 db