Orico 4 Port USB Desktop Charger (DCH-4U)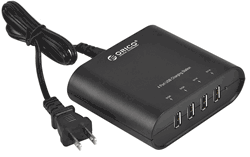 Orico 4 Port USB Desktop Charger (DCH-4U)
4 Port Desktop Charger 2x5V2A, 2x5V1A, USB
Product Features:
1) ORICO 4 port USB charging station, Compatible with iPhone, iPad, HTC phones, Samsung Galaxy Tab, Samsung Galaxy Phone, Samsung Galaxy Note, Blackberry, MP3 players, Digital Camera, & other USB devices
2) Use your existing USB charging cables to charge most USB powered devices. Easy-to-see LED confirms whether USB charger is properly connected
3) AC input: 100-240Vac, 0.8A, 50-60Hz,DC output: 5V     USB output: 2x2A, 2x1A
4) Highest Power rating at 30W / 6 Amps output, at least twice the power of any other four port charger.
5) Compact Design and Flip Down AC Prongs make it easy to carry on travel.
  6) Sophisticated circuit design with over-heated, over-current, over-charging protection. Charging will be automatically stop when battery is full.
Product Name: Orico
Model Number: DCH4U-BK
USe: Mobile Phone
Type  Electric
Product Packing List: Product Applications:
1. ORICO DCH-4U*1
2. AC power cord*1
3. User manual*1
4. Warrany card*1