Orico ORI-2588US3-BK 2.5 inch SATA Enclosure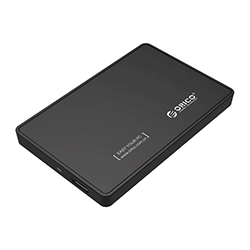 Orico ORI-2588US3-BK 2.5 inch SATA Enclosure
High-quality 2.5 inch SATA hard disk enclosure from Orico. With a USB 3.0 interface, this housing supports a data transfer rate of 5Gbps, which is no less than 10x faster than USB 2.0
High-quality 2.5 inch SATA hard disk enclosure from Orico.
With a USB 3.0 interface, this housing supports a data transfer rate of 5Gbps, which is no less than 10x faster than USB 2.0! Note: This housing does NOT support IDE disks. the speed of the housing depends on the connected hard drive and the 5Gbps is the theoretical speed of the USB 3.0 port. The housing is also backwards compatible with USB 2.0 and 1.1
The 2.5 inch housing is made of galvanized metal and ABS temperature resistant plastic.
Install Tool-Free
Thanks to the tool-free function you can make this housing ready for use within 10 seconds! No technical knowledge required and no tools required! First you open the housing. After that you place your hard drive of 7mm or 9.5mm in the housing, after which you can easily slide it again. Connect the hard disk to your laptop or desktop and it is ready for use. As soon as the drive is connected and working, the LED indicator lights up blue.
Compatibility
The housing is compatible with SATA I, II and III HDDs and also with Solid State Drives (SSD). No driver is required and you do not need to restart the computer or laptop when connecting. Works with Windows 10/8/7 / Vista and XP, also works with Mac OS 9.1 and higher, Linux and Unix.
Capacity
The case supports 2.5 inch drives with a maximum capacity of 2TB.
Security
The Orico 2.5 inch hard disk enclosure has a Multi-Safety security system:
Protected against over-voltage, over-current, short-circuit, leakage current and overheating.