Orico USB 3.0 8 Port Multi Function USB Hub / Charger (UH4C4)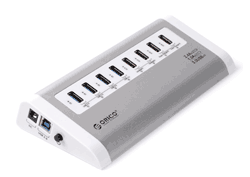 Orico USB 3.0 8 Port Multi Function USB Hub / Charger (UH4C4)
2 x 5V2.4A, 2x51A with 12V4A AC Adapter, Dual Purpose USB 3.0 Charging and Data Hub, USB BC 1.2 (battery charging)
ORICO UH4C4 is a powerful dual purpose USB3.0 Charging and Data Hub to add 4 UBS3.0 ports to your computer and 4 port USB smart charging hub. Equipped with the 3rd Generation VL812 USB 3.0 hub controller and USB BC 1.2(Battery Charging) Specification delivers ultimate performance on compatibility and connectivity.
Specification 
-Application: USB3.0 Data & BC1.2 Charging Hub 
-Chipset: VIA VL812 USB3.0 Hub Controller & Smart IC Charger 
-Data transfer rate: upto 5Gbps 
-USB3.0 Interface: 4×Standard Type A USB3.0 Female 
-USB3.0 Output: upto 5V 900mA 
-USB Charging Port: 2×2.4A ; 1×1.0A 
-Hot-swappable & plug and play: Yes 
-Material: Aluminium & Plastics 
-Dimension: 225*180*58mm; Net Weight: 225g 
-CE & RoHS Approval: Yes
OS Requirement 
* Windows 2000 / XP / Vista / 7 / 8 (32bit/ 64bit) 
* Linux 
* Mac OS 10.2 and later version 
Mac OS X Lion 10.7.4 users should upgrade to Mountain Lion 10.8.2 or later to avoid unstable connections.
Package Including 
ORICO UH4C4 Hub x 1 
USB3.0 Data Cable x 1 
UK 12V 4A Power Adapter x 1 
Manual x 1
NOTE 
1. The actual charging speed depends on your device. To reach fast charging speeds (>5V 500mA) on the 5 standard USB 3.0 ports, you must use the charging cables included. 
2. Some USB 3.0 devices (such as Apple SuperDrive and some WD hard drives) require direct connection to host ports. 
3. 2.4Ghz wireless devices (keyboards, mice, etc.) may not work around USB 3.0 ports. Try using a USB 2.0 connection instead.