Dynamically enables vertical sync based on your current frame rates for the smoothest gaming experience.
Support for HDMI output enables sending both high-definition video and audio signals to an HDTV via a single cable
Able to drive the industry's largest and highest resolution flat-panel displays up to 2560 x 1600 and with support for HDCP.
Full support for NVIDIA PhysX technology, enabling a totally new class of physical gaming interaction for a more dynamic and realistic experience with GeForce.
Designed for the new PCI Express 3.0 bus architecture offering the highest data transfer speeds for the most bandwidth-hungry games and 3D applications, while maintaining backwards compatibility with existing PCI Express motherboards for the broadest support.
HDCP stands for High-Bandwidth Digital Content Protection, a copy protection scheme to eliminate the possibility of intercepting digital data midstream between the source to the display.
GeForce GPU support for NVIDIA 3D Vision, bringing a fully immersive stereoscopic 3D experience to the PC. A combination of high-tech wireless glasses and advanced software, 3D Vision transforms hundreds of PC games into full stereoscopic 3D.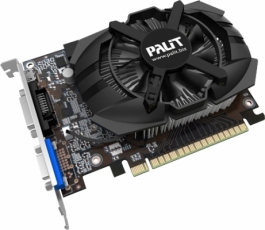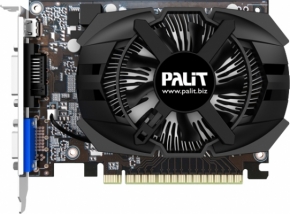 Technical Specifications:
Memory Amount
2048MB
Memory Interface
128bit
DRAM Type
GDDR5
Graphics Clock
1058MHz
Memory Clock
2500MHz (DDR 5000MHz)
CUDA Cores
384
Memory Bandwidth (GB/sec)
80
Microsoft DirectX
12
OpenGL
4.5
Bus Support
PCI-E 3.0 x 16
Dual-Link DVI
✔
VGA
✔
HDCP
✔
HDMI
mHDMI
Maximum Digital Resolution
4096x2160
Maximum VGA Resolution
2048x1536
Height
2 Slot
Board Size
145mm x 112mm
Graphics Card Power
63.5 W
Minimum Recommended System Power
400 W
Accessory
Manual, Driver Disc
NVIDIA 3D Vision Ready
✔
NVIDIA PhysX-ready
✔
NVIDIA CUDA Technology
✔
NVIDIA Adaptive Vertical Sync
✔
NVIDIA FXAA Technology
✔
NVIDIA TXAA Technology
✔