Palit StormX GTX1050Ti 4GB GDDR5 128Bit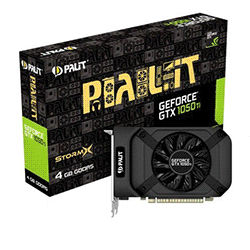 Palit StormX GTX1050Ti 4GB GDDR5 128Bit
Palit GeForce GTX 1050 series is a true gaming GPU designed for every PC gamer. It's built to the exacting specifications of the GeForce GTX family and powered by NVIDIA Pascal-the most advanced GPU architecture ever created, it's loaded with innovative NVIDIA Game Ready technologies that let every gamer experience the latest titles in their full glory. GeForce GTX 1050 transforms your PC into a gaming rig to rival any game console. Enjoy the classic and modern games at 1080p @60 FPS

Pay only P 696 a Month for 12 months.
Or pay only P 1,319 a Month for 6 months.
Installment promo is available for locally issued credit cards
Card holder must transact inside an Asianic store to avail of the installment
Palit GeForce GTX 1050 series is a true gaming GPU designed for every PC gamer. It's built to the exacting specifications of the GeForce GTX family and powered by NVIDIA Pascal-the most advanced GPU architecture ever created, it's loaded with innovative NVIDIA Game Ready technologies that let every gamer experience the latest titles in their full glory. GeForce GTX 1050 transforms your PC into a gaming rig to rival any game console. Enjoy the classic and modern games at 1080p @60 FPS
Step up to GeForce GTX gaming with the new Palit GTX1050 Ti and GTX 1050 StormX series. Its powerful, ultra-Effient next-gens architecture makes the Palit GeForce GTX 1050 series the weapon of choice for serious gaming at an incredible value. Without a doubt, Palit GeForce GTX1050 StormX series makes for a perfect solution for gamers on a budget.
Memory Amount 4GB
Memory Interface 128bit
DRAM Type GDDR5
Graphics Clock Base Clock 1290 MHz/Boost Clock 1392 MHz      Base Clock 1354 MHz/Boost Clock 1455 MHz
Memory Clock 3500MHz (effective 7000MHz)
CUDA Cores 768       640
Microsoft DirectX 12
Memory Bandwidth (GB/sec) 112
NVIDIA SLI-ready No
NVIDIA Multi-Projection Yes
NVIDIA Ansel Yes
NVIDIA Vulkan API Yes
NVIDIA G-SYNC Yes
NVIDIA GPU Boost 0
NVIDIA GameStream technology Yes
Maximum Digital Resolution 4096 x 2160 @ 60Hz
Dual-Link DVI One
HDMI One HDMI 2.0
DisplayPort One DP 1.4
HDCP Yes
Height 2 Slot
Overall dimensions 166 x 112 (L x H)
Graphics Card Power (W) 75
Minimum Recommended System Power (W) 300
Accessories Manual and Driver Disc