Pioneer CDJ-2000 Nexus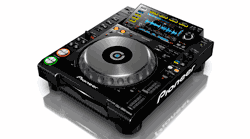 Pioneer CDJ-2000 Nexus
Multi-Player for DJ w/ USB, MP3, SD, Pro DJ Link w/ Recordbox - Built-in Wi-Fi

Pay only P 9,999 a Month for 12 months.
Or pay only P 19,998 a Month for 6 months.
0% interest promo is available for locally issued credit cards
Card holder must transact inside an Asianic store to avail of the 0% promo
The industry standard has evolved to allow you to access your music over Wi-Fi / USB from smartphone or tablet *1 and prepare/manage music before DJ play with rekordboxTM.
PRO DJ LINK gives access to your music on up to 4 decks from a single source.
Large LCD display shows track artwork and waveform that can be expanded/minimized.

Worldĺs first*2 DJ play using music stored inside smartphones and tablets*1 via Wi-Fi/USB connection*3
Includes rekordboxTM music management software for advance preparation of music to be used in DJ play
PRO DJ LINK function expands scale of DJ performances
Full-color LCD display for quick song selection and instant understanding of musical progress
SLIP and QUANTIZE*4 functions for reliable performance without changing progress of original music
ôMy Settingsö function for immediate application of your own customized settings
New algorithm enables master tempo to deliver sound quality more faithful to original tone
High sound quality design for faithful reproduction of original tone and clear/powerful club sound
Support for various media and formats
*1 The tablet version of rekordboxTM is scheduled to be downloadable as of November.
*2 In methods of sending music from smartphones/tablets via a Wi-Fi/USB connection (as of September 2012).
*3 Commercially available wireless LAN router separately required for Wi-Fi connection.
*4 Works with music that has been analyzed by rekordboxTM
Notification for CDJ-2000 owners
To coincide with the launch of the CDJ-2000nexus, Pioneer will commence a CDJ-2000 firmware update from End of October, 2012 (date TBC). This update will make it possible to avoid certain feature restrictions when connecting the CDJ-2000nexus and CDJ-2000 via LAN.
Scheduled download start date´╝Ü End of October, 2012 (date TBC)
Download site´╝Ü http://pioneerdj.com/support/
Version information´╝Ü Ver.4.20 (TBC)
Update content´╝Ü Eliminates feature restrictions when connecting CDJ-2000nexus and CDJ-2000 via LAN
Main Specifications
| | |
| --- | --- |
| Playable media | iPhone/iPad/iPod touch, Android phone/Android Tablet, etc., USB storage devices (flash memory/HDD, etc.), SD memory cards, computers (Mac/Windows PC) Audio CD, CD-R/RW, DVD▒R/RW/R-DL |
| Playable files | MP3, AAC, WAV, AIFF |
| USB storage support file systems | FAT32, FAT16, FAT12, HFS+ |
| Frequency response | 4 Hz-20 kHz |
| S/N ratio | Min. 115 dB (JEITA) |
| Total harmonic distortion | Max 0.0018 % (JEITA) |
| USB ports | USB A Port x 1, USB B Port x 1 |
| Audio outputs ports | AUDIO OUT(RCA) x 1, DIGITAL OUT(COAXIAL) x 1 |
| Other ports | LAN(100Base-TX) x 1, CONTROL (¤ć3.5 mm mini plug) x 1 |
| Audio output voltage | 2.0 Vrms |
| Power use | AC100 V (50 Hz/60 Hz) |
| Electricity consumption | 37 W |
| Max. external dimensions | 320 mm(W) x 405.7 mm(D) x 106.5 mm(H) |
| Mass | 4.7 kg |
Included rekordboxTM music management software
| | |
| --- | --- |
| Supported OS (Mac) | Mac OS X 10.7, 10.6 or 10.5.8 |
| Supported OS (Windows) | Windows«7 Home Premium/Profesional/Ultimate/Windows Vista« Home Basic/Home Premium/Ultimate/Business (SP2 and above) Windows«XP Home Edition/Profesional (SP3 and above) (*Windows« XP Professional x64 edition is not supported) |
| Playable files | MP3, AAC, WAV, AIFF |
Mobile version of rekordboxTM music management software
| | |
| --- | --- |
| Supported OS (Mac) | iPhone 4S, iPhone 4, iPhone 3GS, iPod touch 4th generation and 3rd generation, iOS5 |
| Supported OS (Android) | Android Smartphone / Tablet Android 2.1 or later |
| Playable files (Mac) | MP3, AAC |
| Playable files (Android) | MP3, AAC, WAV, AIFF |
Included:
CD-ROM (rekordboxTM, the driver software, the operating instructions)
Power cord
Audio cable
iPod cable
LAN cable
Disc force eject pin (mounted on bottom of product)
Read Before Use (Important)/Quick Start Guide

iPhone, iPad, iPod touch, iTunes, Mac and Mac OS are registered trademarks of Apple Inc. in the United States and other countries. App Store is a service mark of Apple Inc.
Android and Youtube are resgitered trademarks of Google Inc.
rekordboxTM is a registered trademark of Pioneer Inc.
Other trademarks and trade names are the property of their respective owners.
Other product, technology and company names, etc. mentioned herein are the trade names or registered trademarks of their respective owners.