Pioneer DJM 2000NXS Digital Mixer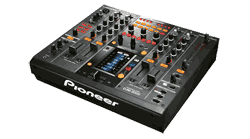 Pioneer DJM 2000NXS Digital Mixer
4 Channel Remix Effects w/ Controller Mixer & Multi-touch Panel

Pay only P 10,415 a Month for 12 months.
Or pay only P 20,831 a Month for 6 months.
0% interest promo is available for locally issued credit cards
Card holder must transact inside an Asianic store to avail of the 0% promo
New 96 kHz full-digital professional performance DJ mixer-- DJM-2000. This mixer with its interface enables DJs to create new music at DJ mixing performance, and equipped with the PRO DJ LINK function that allows DJs to connect with multi-players such as CDJ-2000.
In this model, while inheriting the basic layout of our club-standard DJM series, we have come up with an interface, bigger and laid it out right in the middle of the mixer which allows DJs to perform more individualistically. Our industry-first 5.8 inch large LCD multi-touch panel allows the DJ to use Touch Panel Effects while checking it visually. It also comes with BEAT EFFECT & INST FX functions which allow DJs to intuitively alter the sound; with this mixer alone without connecting to multiple devices allows in real time flexible performance for the DJs.
Using the PRO DJ LINK function allows the music data to be shared up to 4 players-CDJ-2000 or CDJ-900 with just one SD card or USB storage device. And up to two computers can be connected, allowing the smooth transition to the next DJ. What's more, the mixer has an internal USB audio interface, so up to 4 audio signal sources can be input directly from a computer.
In terms of sound quality, it exceeds the DJM-800 and offers Pioneer's best sound. Ever since the launch of our fully digital DJ mixers DJM-1000 and DJM-800, we have gained strong prestige among pro DJs and the mixers have been introduced into many of the famous clubs around the globe.
Specifications:
No. of Channels

Audio 4-channels, Mic, 1-channel

Input Terminals

CD/LINE X 6 (RCA)

PHONO X 2 (RCA)

DIGITAL IN X 4 (COAXIAL)

MIC X 1 (On top, XLR & 1/4-inch general-purpose phoneX1)

Output Terminals

MASTER OUT X 2 (RCA X 1, XLR X 1)

BOOTH OUT X 1 (1/4 inch PHONE)

HEADPHONE MONITOR OUT X 1 (On top, 1/4 inch PHONE)

REC OUT X 1 (RCA)

DIGITAL OUT X 1 (COAXIAL)

Other Terminals

SEND X 1 (1/4 inch PHONE)

RETURN X 1 (1/4 inch PHONE)

MIDI OUT X 1 (5P DIN)

CONTROL X 2 (3.5MINI JACK)

 

USB B Port X 1

 

LINK Terminal X 6

Sampling Rate

96 kHz

D/A Converter

32 bit

A/D Converter

24 bit

Frequency Performance

20 Hz - 20 kHz

Total Harmonic Distortion

0.004% or less

Signal/Noise Ratio

107 dB (LINE)

Headroom

19 dB

Power Source

AC 230 V (50/60 Hz)

Power Consumption

40 W

Max External Dimensions

430 mm (W) x 409 mm (D) x 107.9 mm (H)

Weight

8.5 kg