Pioneer DJM-350 2 channel mixer with rekordbox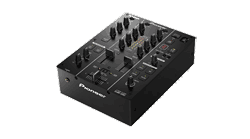 Pioneer DJM-350 2 channel mixer with rekordbox
2 Channel Effects Mixer w/ USB, 3 Band Isolator Type EQ

Pay only P 8,663 a Month for 3 months.
0% interest promo is available for locally issued credit cards
Card holder must transact inside an Asianic store to avail of the 0% promo
1) Capable of Recording Directly to USB Devices
A USB port (Type A) is installed on the top panel. Users can record their own DJ mix directly to a USB storage device without having to use a computer or recording device. As recorded DJ mixes are saved in WAV file format, they can be imported and playback on a PC or portable audio player.
2) Equipped with Intuitive Operations and Four Kinds of Effects for Enjoying Remixing
The DJM-350 comes equipped with four kinds of effects - Filter, Crush, Jet and Gate.*1 The intuitive controls allow sounds to be altered so original arrangements can be added to songs and users can enjoy DJ-ing with all kinds of remixes.
3) Equipped with an Isolator Type*2 of 3-Band Equalizer on Each Channel
The DJM-350 has a built-in 3-band, isolator type of equalizer that allows a broad range of level control, from +9dB to - (cut) in each of the HI, MID & LOW ranges. As each band can be controlled independently, users can enjoy a variety of DJ performances.
4) Digital System with a Clear Sound for DJ Mixing
The analog signal is input and converted to digital via the shortest of circuits. In addition, the analog and digital circuits are isolated from each other and all signal processing is performed by a high-performance CPU that minimizes noise. The DJM-350 inherits the high fidelity design of the DJM series so users can enjoy DJ mixing with a clean, clear sound.
5) Other Features
-Equipped with MIC/AUX terminals for connecting portable audio players and/or mics.
-A Pioneer CDJ player can be used for fader, start or play functions via a link to the fader control.*3
-All channels are equipped with peak level meters, which indicate the input level on each channel.
-Our Crossfader Curve Adjustment function makes it possible to adjust the crossfader*4 curve.
*1 Filter: Greatly alters the tonal quality by removing audio from the high or low bands.
Crush: Accents the sound by moderately crushing it.
Jet: Applies an effect like when a jet takes off or lands.
Gate: Alters the rhythm of a track by cutting the range which characterizes the rhythm component.
*2 Equalizer which completely eliminates sound when knobs are turned all the way off.
*3 Requires connection with a control cable.
*4 Facilitates the mixing or switching of songs by altering the volume of multiple sounds at the same time with one fader.
Specifications:
No. of Channels

2

Input Terminals

CD /Line 2 (RCA)
PHONO x 2 (RCA)
MIC 1 (1/4 inch x 1 : Rear Panel)
AUX 1 (RCA Rear Panel)

Output Terminals

MASTER OUT x 2 (RCA x 2)
HEADPHONE MONITOR OUT x 1 (Top Panel 1/4 inch)

Other Terminals

Control Out x 2 (3.5mm mini jack)
USB-A Port 1 (Top Panel)

Sampling Rate

48 kHz

A/D, D/A Converter

24bit

Frequency Response

20Hz to 20kHz

Total Harmonic Distortion

0.007% or less

Signal-to-Noise Ratio

97dB (LINE)

Voltage

AC 220 - 240V
50/60Hz

Power Consumption

20 W

Dimensions

8.58in (W) x 11.85in (D) x 4.19in (H)
218mm (W) x 301.1mm (D) x 106.6mm (H)

Product Weight

7.3lbs / 3.3kg

Gross Weight
4.3kg