Pioneer DJM 700 4 channel Mixer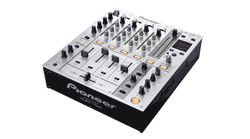 Pioneer DJM 700 4 channel Mixer
Setting a new industry standard for quality mid-market mixers, 4 Channel Mixer with Auto BPM, Robust and Reliable.

Pay only P 13,300 a Month for 3 months.
0% interest promo is available for locally issued credit cards
Card holder must transact inside an Asianic store to avail of the 0% promo
The DJM-700 empowers DJs with 96 kHz/24bit sound card quality, a fully assignable MIDI interface, loads of new effects, as well as the landmark innovation of the world's first 'Effect Frequency Filter'. Delivering breathtaking scope for creativity, consummate clarity and a world first in terms of its Effect Frequency Filter, the new DJM-700 is dramatically different.
The 4-channel mixer inherits the sound quality of the DJM-800 and DJM-1000, it also includes some key features including MIDI connectivity, 49 assignables, cutting edge digital effects and a filter on pre-out so you can filter the effects. Boasting 32-bit DSP [Digital Signal Processing] , 13 beat effects and enhanced roll sampler in what is an extremely familiar format for DJs, this new kit on the block is definitely in a class of its own.
With an industry-standard size and layout and a dual shield structure that eliminates digital noise, the new DJM-700 is both robust and reliable. Setting a new industry standard for quality mid-market mixers, the DJM-700 allows DJs to transmit unique musical flows using a formidable range of features. Designed to impress in bar, club and studio spaces alike the DJM-700 is set to have a wide appeal.
Specifications:
| | |
| --- | --- |
| Channels | |
| No. of Channels | 4 |
| Channel EQ | 3-band |
| EQ Range | 26db ~ +6db dB |
| Fader Curve | 2 Curves |
| Level MeterType | Individual |
| Level Meter Size | 15 Segment |
| Input | |
| CD/LINE Input | 5 |
| PHONO Input | 3 |
| MIC Input (XLR) | 1 |
| MIC Input (1/4 inch Phone) | 1 |
| RETURN (1/4 inch Phone) | 1 |
| Output | |
| Master Output (XLR) | 1 |
| Master Output (RCA) | 1 |
| Booth Output (RCA) | 1 |
| Rec Out (RCA) | 1 |
| Digital Out (Coaxial) | 1 x (SP/DIF) (48kHz or 96kHz) |
| MIDI Out (Din) | 1 |
| Send (1/4 inch Phone) | 1 |
| Master | |
| Master Balance | Yes |
| Stereo/Mono Switch | Yes |
| Frequency Filter | Yes |
| Level Meter Size | 15 Segment |
| Master Out Attenuator | Yes |
| Cross Fader | |
| Cross Fader Type | Carbon Rail |
| Fader Curve | 3 |
| Assignable | Yes |
| Field Replaceable | Yes |
| Monitoring | |
| Booth Monitor | Yes |
| Booth Monitor EQ | Yes |
| Effect/Sampler | |
| Beat Effect | 13 |