Pioneer HDJ-500 DJ Headphones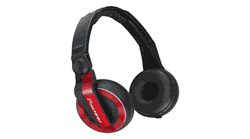 Pioneer HDJ-500 DJ Headphones
A clear rich sound so you never miss a beat. DJ headphones that adapt to various monitoring styles. Available in Red, Black, White, Violet, Green Colors. Includes: 6.3 mm diameter 3P plug adapter (gold-plated, screw-in)

Pay only P 998 a Month for 6 months.
Or pay only P 534 a Month for 12 months.
0% interest promo is available for locally issued credit cards
Card holder must transact inside an Asianic store to avail of the 0% promo
Pioneer introduces its simple and stylishly designed HDJ-500 headphones into the entry-level DJ market in two color variations, red (HDJ-500-R) and white (HDJ-500-W). The headphones clearly reproduce the low- to mid-range drum sounds, such as that of kick and snare drums, as required by DJs for mixing. While it is primarily for DJ-ing, it also readily offers itself for enjoying dance music out on the streets due to its lightweight design. Take your pick from the colors available to match your individual style!


Clearly reproduces low- to mid-range sound, such as kick and snare drums as demanded by DJs
Reproduces a rich low-range and increases the sound pressure by utilizing our newly developed 40 mm diameter driver unit, which uses a rare-earth super magnet and by narrowing the ear pad opening. Furthermore, by adopting the thickest diaphragm ever at 19 mm (micrometers) and a copper-clad aluminum wire (CCAW) voice coil, the headphone reproduces the clear low- to mid-range sounds necessary for DJ mixing, such as snare and kick drum sounds, which allows even entry-level DJs to readily pick out the tempo of the music.

Compatible with various DJ monitoring styles
The headphones allow for various DJ monitoring styles by employing a rotating arm structure that allows it to slide to about 60 degrees to the right housing and via the flexible headband that maintains side pressure, allowing the DJ to listen with just one ear.

Interchangeable side-mount cord that doesn't hinder DJ movements
We adopted an interchangeable cord that plugs into one side of the headphones so it doesn't hinder the movement of the DJ. The headphones come with a 1.2 m coiled cord (extendable to about 3 m) and a 1 m straight cord, which can be used for different purposes, be it DJ-ing or listening to music out on the streets.
Emulates the design of professional DJ headphones
A simple and stylish design emulates the design of Pioneer's own professional DJ headphones, especially our flagship model, the HDJ 2000. The streamlined hanger makes it a snap to distinguish the left and right sides of the headphones.
Specifications:
Type
Fully enclosed dynamic headphones
Frequency range
5 Hz to 28,000 Hz
Impedance
45

W

Sensitivity
105 dB
Maximum power input
2,000 mW
Driver units
40 mm dia. dome type
Cord
1.2 m side mount coil cord (extended 3 m), 1 m straight cord
Plug
3.5 mm dia. 3P mini-plug (gold-plated, screw-in)
Weight
195 g (not incl. cord)
Accessories
6.3 mm dia. 3P plug adapter (gold-plated, screw-in)