Pay only P 3,833 a Month for 6 months.
Or pay only P 2,050 a Month for 12 months.
0% interest promo is available for locally issued credit cards
Card holder must transact inside an Asianic store to avail of the 0% promo
Features
10 Times Faster
The full-duplex data transfers capability allows the sending and receiving of data (at the same time) at 10 times faster than an equivalent card of USB 2.0 Standard. The maximum speed of USB 3.0 is 5Gbps, which enables the data transfer up to 25GB within a minute.
Supports 32 TB
Maximum addressable capacity 32TB via the USB 2.0 / USB 3.0 interfaces.
POWER SYNC
Sleeping mode in synchronization with PC's power.
HDD X 8 (Supported)
All 8 HDDs are recognized when they are installed.
SMART FAN
Comes with auto / manual modes & 3 levels of speed for best convention.
Smart Fan functions:

Thermal-sensor built-in
Auto & manual modes
3 levels of speed
Fan easy to install & dismantle
You can change the fan with another identical fan.
Modee RAID 50
File system NTFS
Hard Drive 8 HITACHI 3TB HDS723030ALA640 (64MB BUFFER, 7200rmp)
Raid Configurations
Spanning Mode
Spanning concatenates multiple hard drives as a single large volume; resulting in a seamless expansion of virtual volumes beyond the physical limitations of separately connected hard drives. The data are written frim HDD1 to HDD8.
RAID 0, JBOD Spanning Only, Non-Single JBOD
Striping Mode

Striping is a method of concatenating multiple hard drives into one logical storage unit. It is the automated process of writing data across multiple drives simultaneously. Striping is used to increase the performance of disk reads. The multiple hard drives will write data in "column" effect. If one drive in a striped set fails, all of the data in the stripe set is lost.
RAID 5

Distributed parity requires all drives but one to be present to operate; drive failure requires replacement, but the array is not destroyed by a single drive failure. Upon drive failure, any subsequent reads can be calculated from the distributed parity such that the drive failure is masked from the end user. The array will have data loss in the event of a second drive failure and is vulnerable until the data that was on the failed drive is rebuilt onto a replacement drive.
RAID 50

RAID 50 combines multiple RAID 5 arrays with RAID 0 Striping. RAID 50 offers highest level of redundancy and performance. RAID 50 can sustain one to four drive failures while maintaining data integrity if each failed disk is in a different RAID 5 array. In RAID 50 the total addressable volume is 2 times the smallest layer of RAID 5 array. RAID 50 requires at least 6 Hard drives.
RAID 1 + 0
RAID 1+0 is mirrored(Raid 1) sets in a striped(Raid 0) set .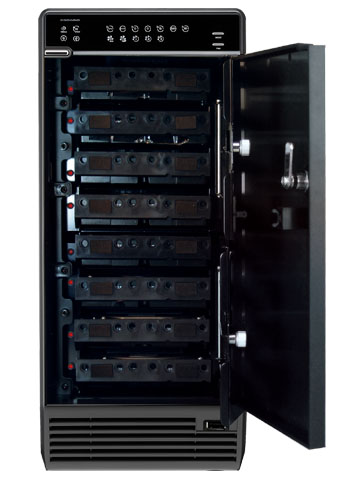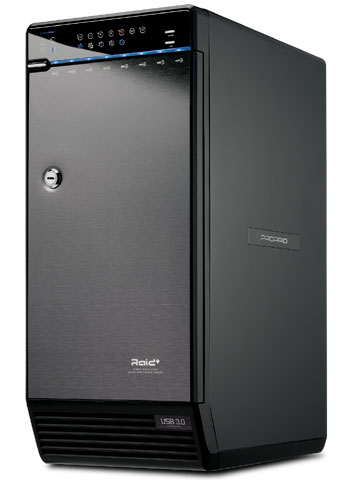 Technical Specifications
Descriptions

8 - BAY 3.5" RAID Enclosure

RAID modes
JBOD / RAID 0, 5, 10, 50
Interface
USB 3.0 / e-SATA

Data Transfer Rate
USB 3.0 up to 5.0 Gbps
e-SATA up to 3.0Gbps
Maximum HDD size
4 TB X 8
Multi-funtion LED displays
2-color LED for power or sleeping mode
Interfaec link LED display
Rebuild LED display
HDD error LED
RAID mode LED display
3 levels of speed
Manual / auto fan control

Color

black

Fan Function

Smart fan function (FAN: 80mm x 80mm) X2

 

3.5" SATA I / II / III HDD

*SATA III at 3.0 Gbps SATA II speed.

8HDDs with same capacity / model / brand strongly recommended

Operation Environment
Temperature 0~60 ℃
Humidity 90% RH
Dimensions
155 (W) X 352 (H) X 253 (D) mm
Weight
Net weight : 5 Kgs / Unit
System Requirements
Windows Vista (32bit/64bit) / Windows 7 (32bit/64bit) / Windows 8
 
(with MBR enabled, supports total capacity up to 2TB )
 
Windows Vista (32bit/64bit) / Windows 7 (32bit/64bit) / Windows 8
 
(with GPT enabled, supports total capacity more than 2TB)
 
Mac OS X 10.8 or later
Power adapter
AC 100~240V
DC output: +12V/12A
 
Accessories Included
e-SATA cable X1
 
 
USB 3.0 cable X1
 
Power cord X1
 
HDD Handle X8
 
Screw driver X1
 
User manual (CD)X1
 
QIG X1