Probox HDJ-SU3B Rock 2.5in Sata HDD enclosure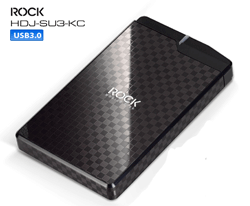 Probox HDJ-SU3B Rock 2.5in Sata HDD enclosure
Easy to set up with plug & play simplicity, Power status & access LED indicator, Support USB transfer speeds of low speed (1.5Mbps), full speed (12Mbps), High Speed (480Mbps), Super Speed (5Gbps). Supports Windows 8 and Mac OS 10.1X and Up.
Features
Super Speed USB 3.0
The full-duplex data transfers capability allows the sending and receiving of data (at the same time) at 10 times faster than an equivalent card of USB 2.0 Standard. The maximum speed of USB 3.0 is 5Gbps, which enables the data transfer up to 25GB within a minute. All HDJ series are hot-swappable and plug and play function.
Aluminum Construction
Known for it's exceptional properties for being lightweight, high rigidity and superior heat dissipation capabilities, aluminium is an obvious choice when it comes to constructing a quality hard drive enclosure, especially with the excess heat generated from the high-speed hard drives available in the market.
Technical Specifications
Interface

USB 3.0

Transfer rate

USB 3.0 Super speed : Up to 5Gbps
Color
Black / Brown / Blue

Case Material

Aluminum

Dimensions

126(D) x 78(W) x 13.6(H) mm
System Requirements
Windows XP / Windows Vista(32/64 bit) / Windows 7
/ Windows 8 (for PC version only)
 
Macintosh 10.3x or later
Power
USB bus powered

Model No.

Accessories Included

HDJ-SU3-KC (Black)

USB 3.0 cable X1

HDJ-SU3-BRC (Brown)

 

HDJ-SU3-BC (Blue)