Pay only P 4,998 a Month for 6 months.
Or pay only P 2,674 a Month for 12 months.
0% interest promo is available for locally issued credit cards
Card holder must transact inside an Asianic store to avail of the 0% promo
Features

Shuttle launches the new 8 series model-SH81R4 with excellent performance and strong expandability for diverse applications. The SH81R4 is based on an Intel® H81 Express Chipset and supports Intel® Haswell/Haswell Refresh 95W processors. Only 1/3 the size of a tower PC, the SH81R4 features extendibility and provides one PCI-E x16, one PCI-E x1, and two mini PCIe slots. Install dual-slot high-end graphics card, multi-display graphic cards, surveillance cards, RAID cards, mSATA SSD or WiFi modules and drive video wall, file server, network video recorder applications, and more. The SH81R4 is equipped with an 80 PLUS Bronze certified 300W power supply and Shuttle's exclusive I.C.E. 2 heat pipe technology for highly energy-efficient and stable long-term operation.
Support Intel® 4th generation Core™ processor
The SH81R4 supports Intel® fourth-generation Haswell/Haswell Refresh Core™ i3/i5/i7, Pentium®, and Celeron® processors. The Core™ i3/i5/i7 processors are integrated Intel® HD Graphics 4600 support for DirectX 11.1 that are significantly improved CPU or GPU performance.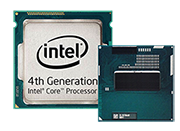 Equipped with an Intel® 8 series Chipset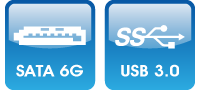 The SH81R4 is equipped with an Intel® H81 Express Chipset. It supports dual-channel DDR3 1333/1600 with maximum memory capacity of up to 16GB (8GBx2). The device supports Gigabit LAN, SATA 6Gbps, and USB3.0 high-speed storage interfaces, providing
superb data transfer speed.
Integrated Cooling Engine 2 (I.C.E. 2) Heat pipe technology
Shuttle XPC features stable, cool, and silent operation with Shuttle's I.C.E. 2 heat pipe technology. It uses convection cooling to dissipate heat away from and around the CPU. The I.C.E.2 copper tubes, coated in nickel for enhanced tube hardness and rust-proof protection, are filled with distilled water to effectively channel heat and provide highly efficient processor and chassis cooling.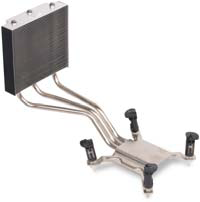 Support PCI-E expansion cards
The SH81R4 provides one PCI-E x16 and one PCI-E x1 slot to meet various needs of users. Select the card you want to use, such as multi-display graphic cards, surveillance cards, RAID cards, and professional sound cards, etc.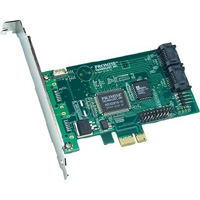 Support 2x Mini-PCIe Slots
The SH81R4 features one full size and one half-size Mini PCIe slots. This compact system supports mSATA SSD and WIFI modules, among other compatible modules.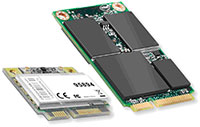 Support 4K Ultra HD

The SH81R4 provides HDMI video output to support 4K high resolution (3840x2160)*. Now with four times the resolution of Full HD, viewers can enjoy the super detailed and crystal clear imaging of 4K.
*Intel® Pentium® and Celeron® processors built-in Intel® HD graphics cannot support 4K video playback capability.
Dual-screen display Outputs
The SH81R4 features one HDMI and one DVI-I output to support dual-screen displays. Use an adaptor to convert HDMI into DVI interface and DVI-I into D-sub (VGA) interface for diversified signal selection.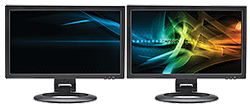 Flexible expansion of hard disk installation
Shuttle XPC reserves space for installation of one 5.25" CD-ROM drive (ODD) and two 3.5" hard disks. With an optional PHD3 accessory users can install a maximum of four 2.5" hard drives (or SSDs).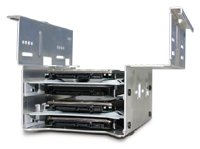 Support Wake-on-LAN
Use BIOS to set up the Wake-on-LAN function so that users can power-on from sleep mode, rest mode, or when powered off via the internet.

Support Power-on by RTC
Enter Bios to set-up Power On by RTC function can set system automatic power on. With Windows task scheduler, the system can power off automatically to achieve the goal of saving energy and operation cost.

The Watchdog– Protecting System Security
Watchdog Timer provides excellent security protection for systems that need to operate continuously for a long period of time. Use Shuttle's Watch Dog utility to maintain normal operation and stability of the system at all times.

Support Mini-ITX Motherboard
For various market demands, Shuttle expands its capabilities by adding support for Mini-ITX mainboards (17x17 cm or 6.7x6.7 inches). The Shuttle chassis goes beyond the Shuttle mainboard, so you can easily upgrade to the mainboard of your desire without any modifications to the chassis.

80Plus Bronze Certified 300W Power Supply
Shuttle's SH81R4 is equipped with an 80 Plus Bronze 300W power supply for guaranteed energy efficiency and energy saving. Shuttle's 300W power supply cuts down on unnecessary power consumption for a higher level of energy saving.

Customizable Front Panel
The front of this XPC is easily customized by simply changing the acrylic front plate. Add any design, such as a photo, graphic, or a company logo to the front panel.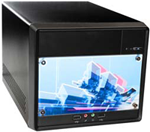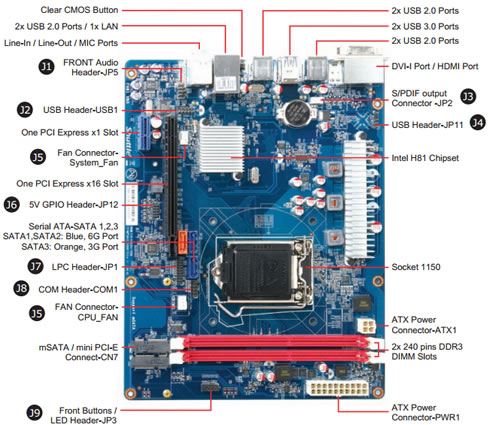 The R4 chassis design: a clean and modern look
Shuttle has always placed great emphasis on the interior and exterior aesthetics of the XPC with the belief that a good blend of style and form factor allows the XPC to be attractive, versatile and work well in almost any environment. The Construction and cover of the R4 chassis is made on aluminium. This leads to a stylish, but robust appearance which has made the 4 a popular chassis design. The drives and media connectors on the front are easy to access in daily use.
Technical Specification:
OPERATING SYSTEM
Windows 10 Home
PROCESSOR
Intel Core i3 4170 Processor (up to 3.7Ghz, 3MB Cache)
CHIPSET
Intel H81 Express Chipset
MEMORY
4GB DDR3 1600 MHz ,
support RAM Socket * 2, Dual channels support 
up to 16 GB total (8GB*2)
VGA
Integrated in CPU
AUDIO
Realtek ALC662
5.1 channel High Definition Audio
ETHERNET
Realtek RTL 8111G
10Mb/s,100Mb/s,1Gb/s operation
Support Wake-ON-LAN function
DISPLAY
AOC 18.5" LED Slim Design
ONBOARD CONNECTORS
(1) 4 Pin fan connector 
(1) 3 Pin fan connector
(2) SATA 6Gb/s connector
(1) SATA 3Gb/s connector
(1) ATX main power (2*10)
(1) ATX main power (2*2)
(1)1x5 pin USB header 
(1) RS232 header
(1) LPC header
(1) GPIO header
(1) AUX-in header
FRONT PANEL
(2) USB 2.0 Port
(1) External microphone jack 1/8"
(1) External headphone jack 1/8"
Power button
HDD/ODD Led
BACK PANEL
(1) HDMI
(1) DVI-I
(6) USB 2.0 Port
(2) USB 3.0 Port
(1) Line in 
(1) Line out 
(1) MIC in
(1) LAN
(1) CMOS clear button

STORAGE
(2) 3.5" 1 x 1TB hard Drive, 1 x Free slot 

DIMENSIONS
325(L) x 215(W) x 190(H) mm (w/o foot rubber)

POWER
300W 80 Plus Bronze power supply
Input:100 - 240V AC
DVD-RW
YES
EXPANSION SLOT
(1) PCI-E X16 slot
(1) PCI-E X1 slot (mechanically compatible with PCI-E x4 card)
(1) Full size Mini-PCIE socket
(1) Half size Mini-PCIE socket