Smartrak H42U W800xD800 Data Cabinet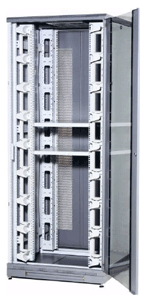 Smartrak H42U W800xD800 Data Cabinet
Light Weight, Strong Cabling Solutions, Easy to Assemble. It is a multi-purpose mounting rack system that allows 19in / ETSI / metric equipment to be mounted in a 42U cabinet. This versatile cabinet is suitable for large cable management from top and bottom for the 800mm wide end frame. Loading capacity is 500KG.

Pay only P 4,707 a Month for 12 months.
Or pay only P 8,915 a Month for 6 months.
Installment promo is available for locally issued credit cards
Card holder must transact inside an Asianic store to avail of the installment
Features
800mm Wide x 800mm Depth x 42U
6.5FT x 32in x 32in dimension
Frame Structure-load rating 500 kg
Top Cover Vented - cable entry panel
Top Fan -2
Front Door Glass w/ lock
Rear Vented Metal Door w/ lock
Side Cover - Lift Off Type
Adjustable Feet & heavy duty castor wheels
Vertical Cable Tray-2
50 pcs Cage Nuts, screws & plastice washers
Finished - Two tone Grey or Black 1003