Sonic Gear Enzo 500 Multi Media Speakers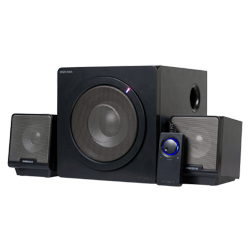 Sonic Gear Enzo 500 Multi Media Speakers
Whether you are listening to Black Eyes Peas in your Study room or watching KING KONG in your living room, the ENZO is designed to provide crisp clear high impact audio to your senses. Everything in the ENZO is designed with high energy audio in mind, starting from the bass reflex port design to the high efficiency drivers and the power circuit - everything have been design to match the ENZO style.

Pay only P 310 a Month for 12 months.
Or pay only P 588 a Month for 6 months.
Installment promo is available for locally issued credit cards
Card holder must transact inside an Asianic store to avail of the installment
Features
•                 Square subwoofer design
•                 Wired controller
•                 Volume and bass control
Technical Specifications
•                 Power Rating: 50 Watts RMS
•                 Bass Driver: 25 Watts
•                 Satellites Driver: 2 x 12.5 Watts
•                 Woofer: 5.25"
•                 Satellites Driver: 2 x 3"
•                 EU Plug