Sonic Gear Titan 7 Multi Media Speakers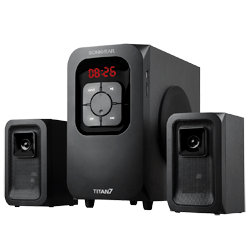 Sonic Gear Titan 7 Multi Media Speakers
The Titan 7 is an ultra bass audio system with SD card, USB, FM Radio input and wireless remote control. Super high-excursion bass audio driver creates earth-shaking deep bass without compromising on clarity. There's a fully functional LED display for audio and FM indication. The Titan series are Bluetooth-ready speakers. You just have to insert a Bluetooth plug-in device, such as the SonicGear BluePort 2, to go wireless.

Pay only P 310 a Month for 12 months.
Or pay only P 588 a Month for 6 months.
Installment promo is available for locally issued credit cards
Card holder must transact inside an Asianic store to avail of the installment
Features
•                 High clarity, full-function LED display for Audio and FM functions
•                 Volume Control
Technical Specifications
•                 Satellite driver: 2 x 3"
•                 Satellite driver impedance: 4Ω
•                 Subwoofer driver: 5.25"
•                 Subwoofer driver impedance: 8Ω
•                 Satellite output power (RMS): 2 x 10W
•                 Subwoofer output power (RMS): 30W
•                 Total system power (RMS): 50W
•                 Frequency response: 20Hz~20KHz
•                 S/N: >=70dB
•                 Distortion: <=0.5%(1K, 1W)