Pay only P 2,145 a Month for 12 months.
Or pay only P 4,062 a Month for 6 months.
Installment promo is available for locally issued credit cards
Card holder must transact inside an Asianic store to avail of the installment
Palm-sized NAS server for rigorous environments
Synology® Embedded DataStation EDS14 is a state-of-the-art compact NAS server. Combining portability with endurance, EDS14 allows you to implement Synology's advanced network storage solutions in a wide range of physical locations. Pre-installed with DSM 5.0, EDS14 is ready-to-use right out of the box.
Optimal performance, compact body
Despite its small size, EDS14 is powered by a 1.2GHz CPU and 512MB of RAM, ensuring both computing and multi-tasking capabilities.
For a model dependent upon external drives, EDS14 delivers remarkable read/write performance - up to 111.94 MB/sec reading and 50.58 MB/sec writing speeds with a USB 3.0 drive in a Windows® environment, as well as 77.81 MB/sec reading and 45.4 MB/sec writing speeds with a UHS-I SDXC card.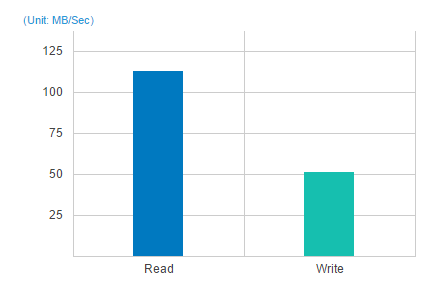 Thermal durability and dynamic DC input for harsh environments
The dynamic cooling mechanism guarantees an industrial thermal endurance level from -20˚C to 50˚C (-4˚F to 122˚F). In addition, EDS14 tolerates dynamic DC input voltage from 7 to 24V, making it compatible with a variety of power sources, such as the cigarette lighter socket in your car.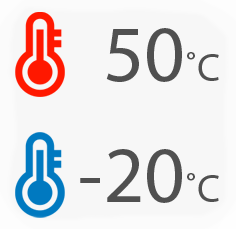 Fan-less and drive-less design reduces vibration
EDS14 features a compact, fan-less, and drive-less design that lowers the chance of hardware failure resulting from vibrations, while also delivering higher durability and reliability. Being EN50155 and EN45545 certified, EDS14 delivers resistance to shock, fire, vibration, and harsh environments found in moving vehicles and railway industries.
Maximizing capacity with rich I/O
EDS14 comes with two LAN ports, one SD card reader, one USB 3.0, and one USB 2.0 interface - all inside a 125 x 125 x 31 mm enclosure. EDS14 supports the latest external storage interfaces - USB 3.0 and SDXC/UHS-I - maximizing both speed and capacity with the compatibility of various file systems.
Dual LAN ports and 3G/4G support maximizing network uptime
Equipped with two LAN ports, EDS14 protects local network tasks and Internet connection from mutual interference. With support for PoE splitters, EDS14 is also ideal for deployment in a PoE environment. In addition, support for mobile networks (3G or 4G modems required) brings EDS14 farther into remote locations.

Schedulable DC output to power external device
A schedulable DC output of up to 1A is available to power an external device where power outlets are out of reach. Peripheral devices can be powered on, off, or reset remotely according to a schedule using DiskStation Manager 5.0 management interface.
Installed Award Winning OS - DiskStation Manager
EDS14 is ready-to-use right out of the box as it comes pre-installed with Synology DiskStation Manager (DSM), a sleek, browser-based operating system running on every DiskStation and RackStation, which makes managing your Synology NAS a breeze. Featuring an intuitive user interface, DSM makes accessing and sharing your data smarter and simpler. Synology's Package Center lets you download and install useful add-on packages designed specifically for individual or business needs, meaning you can enjoy more entertainment in your life or better productivity at work.Learn more
Cloud-Ready NVR
Specifically designed to run Synology Surveillance Station, EDS14 provides a cutting-edge NVR solution that meets the most demanding enterprise surveillance requirements. You can have an optimized live view experience with on-screen operations, smart analytics tools like motion detection, and an alert system that sends instant notifications through SMS, e-mail, and DS cam. Surveillance Station now supports over 4,000 IP camera models. Learn more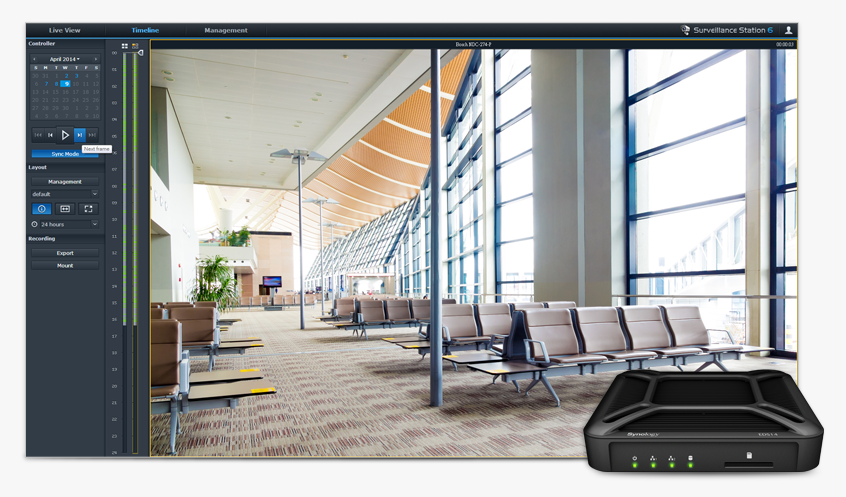 Connect your data quickly and easily
Synology aims to provide you the most convenient way to enjoy all services on EDS14. With Synology QuickConnect, you don't have to deal with difficult DDNS setup. QuickConnect frees you from complicated router configuration and port-forwarding, so your entertainment and work files can be accessed on any computer, laptop, or mobile devices instantly without extra charge. Learn more
Ultimate file center
File Station is a fast and secure feature for sharing and managing your files stored on EDS14. Just drag-n-drop and upload data from Mac or PC. Advanced filters make it easy to search for documents, photos, or videos. With built-in FTP or email clients, EDS14 lets you organize and share files through an advanced web application effortlessly. You can even share files and folders with others by simply sending a link. Files can be reached on mobile devices via the companion mobile app DS file. HTTPS, SSL/TLS encryption, and link expiry dates also ensure file sharing over the Internet is highly secure. Learn more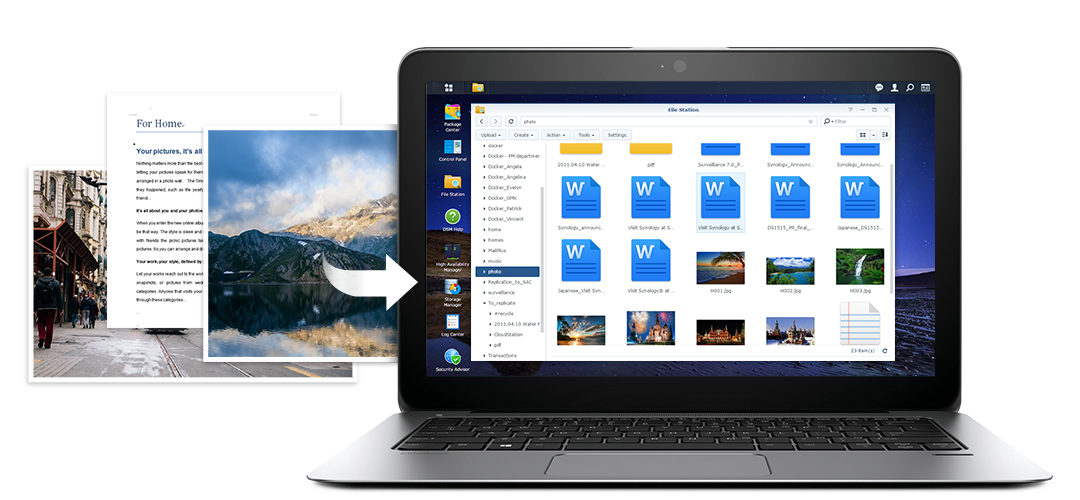 The most compatible sharing
Enjoy seamless files sharing across Windows®, Mac®, and Linux® platforms as EDS14 offers comprehensive network protocol support including FTP, SMB2, AFP, NFS and WebDAV. You also won't worry about missing files with the Recycle Bin feature which is supported on AFP, CIFS, File Station, and WebDAV. All files deleted in a shared folder will be automatically moved into the Recycle Bin. Learn more
Your files anywhere with cloud service
EDS14 brings you comprehensive cloud service. Cloud Station lets you sync files among DiskStations and multiple devices, including Windows PC, Mac, Linux, iOS, Android, as well as Windows mobile devices, whereas 2-way sync allows file synchronization among different DiskStations. With Cloud Sync, you can even sync your DiskStation with Amazon Cloud Drive, Google Drive, Microsoft OneDrive, Dropbox, Box, Baidu Cloud, and many more — establish your hybrid cloud to enjoy more storage flexibility and prevent data loss. Learn more
Enjoy multimedia library
EDS14 provides you a central platform to organize, backup, and share photos, music, and video collections. Featuring a streamlined and sleek interface, Synology packages — Photo Station, Audio Station and Video Station — let you build a seamless entertainment hub effortlessly. Since everything is saved on EDS14, you can enjoy more customizable content arrangement, and no worries about extra monthly fees for storage capacity. Better yet, your digital collections can be shared with others via a simple link. Learn more
Stream content to your TV
EDS14 is highly compatible with other devices, letting you manage and enjoy digital content with the devices you already have: computers, mobile devices, TVs, DLNA devices, and stereos. Synology offers the latest support for TV streaming, including Samsung TV, Roku players, Apple TV, and Google Chromecast, meaning you can stream digital content stored on EDS14 to your widescreen TV effortlessly.Learn more
Get mobility with our apps
Synology develops versatile mobile apps — DS note, DS audio, DS video, DS photo, DS cloud, DS file, DS get and DS cam — allowing you to access and manage the contents of your EDS14 with smartphones and tablets. QuickConnect brings an easier network experience as it eliminates complicated router configuration or port forwarding. With Synology mobile apps, your multimedia collection and work files are always on the go. Learn more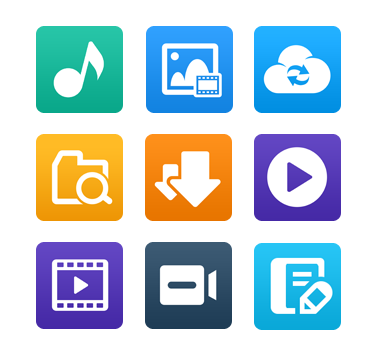 Technical Specifications:
CPU Model     : Marvell Armada 370 88F6707
CPU Frequency : 1.2Ghz
Memory     
System Flash : 4GB e MMC
System Memory ; 512MB DDR3
External Ports : USB 2.0 x 1, USB 3.0 x 1
File System : External Drives (EXT 4, EXT 3, FAT, NTFS, HFS+ Read only with max. volume size 2TB)
Appearance : Size (H x W x D) 31mm x 125mm x 125mm
Weight :.295Kgs
Others : RJ-45 1GbE LAN port x 2 (with Aggregation / Failover support)
Wireless Support : Dongle
Power Supply Unit : 24W Adapter
AC Input Power V : 100V to 240V AC
Power Frequency : 50/60Hz, Single Phase
Power Consumption : 8.66W (access); 7.12W (idle)
British Thermal unit : 29.55 BTU/hr (Access) ; 24.29 BTU/hr (Idle)
Dynamic DC Input     : 7-24V
DC Output     : 1A
Storage Management  
Maximum File System     : 16TB
Maximum Local user : 128
Maximum Local Groups : 64
Maximum Shared Folder : 32
with Sync Tasks : 2
Maximum Concurrrent
CIFS/ AFP/FTP Connections: 128
Notes: *Performance figures could vary on different environments.
*The Max File System size (or the Max Volume size) doesn't equal to the Max Internal Capacity, which is limited by the aggregated space of installed drives.