Team 4GB 1600MHz DDR3 U-DIMM Desktop Memory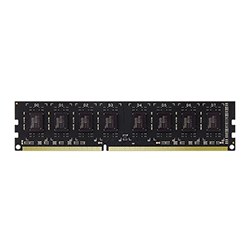 Team 4GB 1600MHz DDR3 U-DIMM Desktop Memory
Team 4GB 1600MHz DDR3 U-DIMM DESKTOP LONG DIMM MEMORY
Adherence to JEDEC and compliance to RoHS with respect to environmental protection regulation, production and manufacturing, Strict test and verification procedures are performed for products.
Provides various frequency and capacity selections
For TEAM ELITE DDR3 family, TEAMGROUP Inc. beholds the consistent quality principle of TEAMGROUP to insist on adopting high-quality ICs, in addition to strict production and manufacturing processes together with strict test procedures. Also, JEDEC(JOINT ELECTRON DEVICE ENGINEERING COUNCIL) regulation is followed in production. TEAM ELITE DDR3 1600 is a 240-pin standard design, operating with a voltage of 1.5 volts to achieve both energy and electricity saving and meet environmental protection regulation. Moreover, TEAM ELITE provides various frequency and capacity selections to meet different levels of requirements of consumers in use.
Technical Specifications
Product Dimensions
: 133.4 x 30 mm
CAS Latency
: DDR3 1600: CL11-11-11-28
DRAM Density
: 128x8 / 256x8 / 512x8
DataTransfer Bandwidth
: DDR3 1600: 12,800MB/s  (PC3 12,800)