Team C155 128GB USB3.2 Golden Flash Drive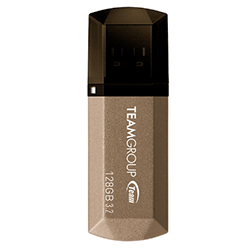 Team C155 128GB USB3.2 Golden Flash Drive
Team C155 128GB USB3.2 GOLDEN FLASH DRIVE Integrally Molding Process Aesthetics Hot-Swap Plug & Play
Downward compatible with large-capacity high-speed transmission
The TEAMGROUP C155 premium flash drive uses USB 3.2 Gen 1 high-speed transfer interface which is several times faster than the data reading speed of USB 2.0 and this can significantly improve transfer performance. It is also compatible with USB 2.0 and USB 1.1 interfaces, and up to 128GB storage capacity that is able to satisfy the needs for High-Speed transmitting and storing of multimedia files and documents, allowing easier data sharing!  
Integrally molding process aesthetics
The body of the TEAMGROUP C155 is built with aluminum unibody case. The surface is abrasive blasted with features like anti-fingerprint and anti-corrosion anodization. It is an example of achieving aesthetic perfection through beautiful craftsmanship.
Chiseled shape design for Tactility
The exterior design of C155 is based on golden ratio to provide a chiseled shape. We also reduced the thickness to 7.1mm. The thinnest part of the outer edge is only 2.95mm thick which creates a thin but stereoscopic feel when consumers holding it in hand.
Strap hole design
The strap hole design can go with a strap to perfectly match with user's personal belongings. It helps with avoiding the problem of losing the device, and it can also become a unique stylish accessory.
Interface
: USB 3.2 Gen 1 (3.0/3.1)
Dimensions
: 54.4 x 19.3 x 7.3 mm
Operating System
: Windows10, Windows® 8.1, Windows 8, Windows 7, Windows Vista®, Mac OS X v.10.6.x+, Linux v.2.6.x+