Team Dark L3 60GB SSD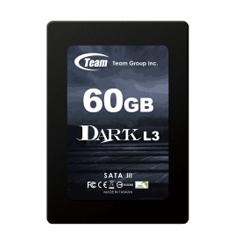 Team Dark L3 60GB SSD
SATA Rev. 3.0 (6Gb/s), Backwards compatibility to SATA Rev. 2.0 (3Gb/s), SMART /NCQ/TRIM SUPPORT, Best 7mm SSD for Ultrabook, 60GB Capacity
It's time to experience the extreme sensation of quickness, energy efficiency, vibration resistance and speed
Gamers, beware! Team Group is rolling out the first SSD designed exclusively for competition games – TEAM Dark L3. Equipped with SATA III, Dark L3 throws the performance of traditional HDDs and entry-level SSDs and the low IOPS and brings about the ultra-performance which gives die-hard gamers the sensation of speed and fierce fights. It does not matter whether it is a 3DRPG or a classic shooting game. Dark L3 is there to summon the frenzy competitive spirits of gamers. With the design as compact as 7mm thin, Team Dark L3 allows applications on PCs, laptops and Ultrabooks. It's time to experience the extreme sensation of quickness, energy efficiency, vibration resistance and speed.
MMORPG:Massive Multiplayer Online Role-Playing Games
Suburbs Loading Time
Main City Loading Time
Description:
In a Massive Multiplayer Online Role-Playing Game (MMORPG), the flow of game determines the life and death of a player when it comes to a fierce battle. The hardware in your computer ranging from CPU, video card, RAM to hard drive is the key of performance as soon as you log in whatever game you are about to play. Among all, the hard drive performance has the greatest impact on the time you spend to get into the game. We actually tested the performance of a number of hard drives and SSDs with a popular MMORPG game in the market. As the test player was loading the game at suburbs, it took 32 seconds for the player to actually get to make any movement in the game with a traditional hard drive, while it took 2/3 less time when switching to SATAII SSD. However, when Team Dark L3 came to play, it took only 12 seconds to load the game. The player experienced the difference of an even faster loading time in a main city (a multi-player environment). This is only part of the story how powerful Team Dark L3 is in the accessing data. It is up to 4 times faster to load a game than any other traditional hard drive, which allows a head start than anybody else on the games and keeps players from the long, agonizing wait which busts the mood for some hardcore fun.
Technical Specifications:






Interface

SATA III







Data transfer rate

ATTO:
60GB Read/Write: up to 520/420 MB/s*
120GB Read/Write: up to 520/420 MB/s*
240GB Read/Write: up to 520/300 MB/s*

Crystal Disk Mark:
60GB Read/Write: up to 410/100 MB/s*
120GB Read/Write: up to 420/140 MB/s*
240GB Read/Write: up to 490/300 MB/s*

60GB 4K Random Read/Write: 35K/25K IOPS Max*
120GB 4K Random Read/Write: 35K/25K IOPS Max*
240GB 4K Random Read/Write: 75K/75K IOPS Max*

 

 

Voltage

DC 5V




 

Power consumption 

-




 

Feature

● SATA Rev. 3.0 (6Gb/s) 
● Backwards compatibility to SATA Rev. 2.0 (3Gb/s)
● SMART /NCQ/TRIM SUPPORT
● Best 7mm SSD for Ultrabook 

 

 

Product Dimensions

100 x 69.9 x 7mm




 

Operating temperature

 0℃ ~ 70℃

Relative Humidity

95% under 55℃

Vibration test

20G

Shock test

1500G

MTBF

1,000,000 hours