Team Elite GX2 256GB SATA III 2.5" SSD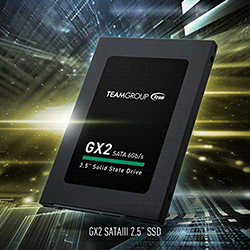 Team Elite GX2 256GB SATA III 2.5" SSD
Team Elite GX2 256GB Sata III 2.5 Solid State Drive. Team Elite GX2 256GB 2.5 SSD Internal Storage Device for Laptop, Notebook and Desktop, for Faster Booting and File Transferring, Windows 10 Compatible , Light weight and Affordable SSD, Easy to Use
Team Elite GX2 256GB Sata III 2.5 Solid State Drive. Team Elite GX2 256GB 2.5 SSD Internal Storage Device for Laptop, Notebook and Desktop, for Faster Booting and File Transferring, Windows 10 Compatible , Light weight and Affordable SSD, Easy to Use

4x faster than a HDD -injects vitality into the system.
High performance -Read speeds up to 550 MB/s[1]to boost overall system responsiveness and performance
Slim form factor -2.5-inch drive available in 7mm to fit in more systems (even slimmer notebooks)
Supports S.M.A.R.T. -monitors the status of your drive
Supports TRIM -maintains maximum performance of compatible operating systems
Guaranteed -1-year warranty

Team Elite GX2 256GB Sata III 2.5 Solid State Drive
When your old computer is running slow, do you feel that it is dragging down your efficiency? With great performance and ultra-fast read and write speed, GX2 solid state drive is 4 times faster than the traditional hard drive!

It can not only speed up boot time, shutdown time and the response time of applications but also lightweight and easy to carry!
GX2 SSD offers more efficient data read/write performance, lower power consumption, and a quiet operation experience!

The problem of poor performance of most PCs is not caused by poor CPU performance, but by the slow read speed of the general hard drive.!
Upgrading to GX2 SSD can breathe new life into your PC by speeding up its boots/shutdown time and enhancing multi-tasking performance!

Best for gaming, and saving tons of files! Isn't this what we all wanted? Highly recommended in icafe, eSports, gaming enthusiasts and office! Get yours now!