Team T-Create 16GB Kit (2x8GB) DDR4 3200MHz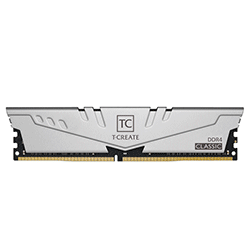 Team T-Create 16GB Kit (2x8GB) DDR4 3200MHz
Team T-Create 16GB Kit (2x8GB) DDR4 3200MHz 10 layers circuits design anti-noise feature Long Dimm

Pay only P 470 a Month for 12 months.
Or pay only P 891 a Month for 6 months.
Installment promo is available for locally issued credit cards
Card holder must transact inside an Asianic store to avail of the installment
Team T-Create CLASSIC 10L memory for High volume data user and better than basic gaming memory design for long lasting performance. it comes with heat sink on top to dissipate over heat as it has a customized high temperature resistance capacitor. it has lower the noise to lowest level among all other memory modules. the industry newest 10 layer circuit design for outstanding multitasking ability whether for design graphics or gaming use.
FEATURES
Unbeatable classic with eye-catching features
10 layers circuits design with professional anti-noise feature
Customized high-temperature resistant capacitor
Outstanding multitasking ability
It offers you peace of mind when creating
Module Type
: DDR4 288 Pin Unbuffered DIMM Non ECC
Capacity
8GB x 2 ( 16GB Kit )
Data Transfer Bandwidth
: 25,600 MB/s (PC4 25,600)
Dimensions
: 32(H) x 140(L) x 7(W)mm
Heat Spreader
: Aluminum heat spreader