Team VULCAN (Red) 4GB 2400MHz DDR4 SO-DIMM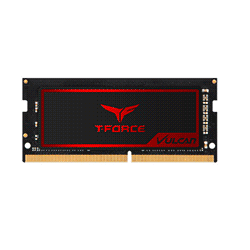 Team VULCAN (Red) 4GB 2400MHz DDR4 SO-DIMM
Ultra-low power consumption. VULCAN is the first DDR4 memory for gaming laptops from T-FORCE. The clock frequency's maximum performance can reach up to DDR4 3600. The maximum capacity is from 4GB up to 32GB(16GBx2), allowing gamers to win every gaming battle.
Super-slim graphene copper-foil heat spreader
After testing countless different proportions of combinations of graphene and copper foil, the R&D team of TEAMGROUP has finally created a special ultra-thin graphene copper foil heat spreader. Long and rigorous test and burn-in test have proven that it can provide a 6% of cooling effect. In a closed space, VULCAN can maintain stability at low temperatures and still offer high performance at the same time.
Support Newest Intel Core Mobile Processors
Compatible with the INTEL NUC platform. Graphene copper foil heat spreader's ultra-lightweight and thin design is able to transfer out the heat efficiently to ensure the computer can still offer high performance with speed and stability under high-speed operation. It is definitely the best choice when it comes to gaming laptops and mini PCs.
Module Type
DDR4 260 PIN SO-DIMM
Data Transfer Bandwidth
19,200 MB/s (PC4 19200)
Latency
CL15-17-17-35
Dimensions
30(H) x 70(L)mm
Heat Spreader
Graphene copper-foil