Tenda MW12 / Mesh / AC2100 Tri-band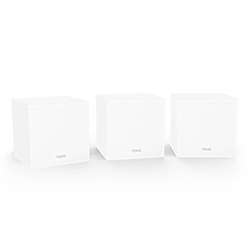 Tenda MW12 / Mesh / AC2100 Tri-band
Tenda MW12 / Mesh / AC2100 Tri-band Whole Home Mesh WiFi System (3 pack)

Pay only P 1,148 a Month for 12 months.
Or pay only P 2,175 a Month for 6 months.
Installment promo is available for locally issued credit cards
Card holder must transact inside an Asianic store to avail of the installment
The MW12 is a whole home Mesh WiFi system designed for medium to large households with a high speed broadband service. Powered by Tenda Mesh technology, it creates a distributed network with several nodes throughout your home. A 3-pack of MW12 is able to cover up to 500 m2 / 6000 sq.ft. AC2100 tri-band design and full gigabit ports support and give full play to your high speed broadband service. It carries a 900 MHz strong CPU and 256 MB large memory, and is able to handle more devices on your network. All terminals can enjoy high-speed tri-band WiFi at the same time, indicating low latency for internet games, smooth streaming of 4K videos and VR HD applications. It features easy and wire-free installation and allows both auto-networking and manual addition. With seamless roaming around the house, the MW12 creates a high-speed and intelligent Mesh WiFi system throughout your home.
English Firmware