Features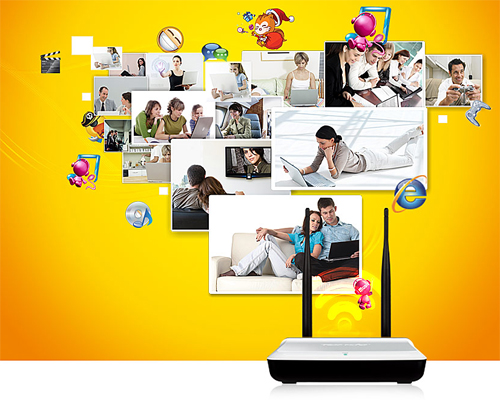 The Tenda N30 delivers high performance and end-to-end wireless connectivity based on the latest wireless N technology which provides better wireless coverage and faster speeds than Wireless G.á Sharing and streaming files has never been so easier with N30, because the built-in Quality of Service (QoS) engine allows users to choose which applications to be prioritized, and the N30 uses MIMO(Multiple in Multiple out) technology to leverage the power of multiple antennas and offer improved range and speed over 150Mbps router. At last, a quick and intuitive installation process makes it well suited for your home networking needs.
The N30 features multi-mode functionality you can utilize as a wireless router to create an 11n Wi-Fi network or easily use as an access point to add Wi-Fi to an existing wired network to provide a wireless connection anywhere desired. It also comes equipped with a built-in firewall that can protect every machine on a local network.
Complies with the IEEE 802.11n wireless standard. Create home or office wireless networks with up to 8x the speed and 6x the range of conventional 802.11g networks. Enjoy bandwidth intensive HD movie and music streaming, VoIP calls, online gaming and more, smoothly and lag-free without the worry of data loss over large areas.
It also supports priority of service where applications using a lot of bandwidth that are sensitive to interruptions such as voice and video are given priority in order to assure quality. By automatically prioritizing different types of network traffic, the N30 can enhance users' experiences for audio, video and voice applications over wireless networks
You can share a high-speed Internet connection, files, media, and more - instantly!
N3 provides a true plug and play solution to create a wireless network in just three steps via Web browser or setup wizard CD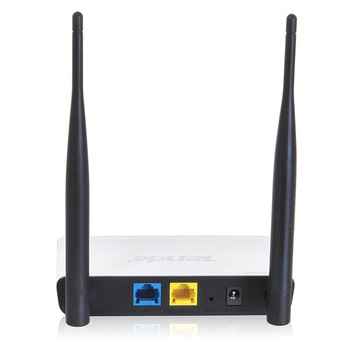 Highlights´╝Ü
ÔŚĆ Wi-Fi compliant with IEEE 802.11n standard,speeds of up to 300Mbps
ÔŚĆ Backwards compatible with IEEE 802.11g and IEEE 802.11b devices
ÔŚĆ Supports WISP Connection
ÔŚĆ Equips with 2* 5 dBi antennas for better coverage
ÔŚĆ Supports WDS to seamlessly expand your wireless network
ÔŚĆ Wi-Fi Multimedia (WMM) Quality of Service (QoS) supported
ÔŚĆ Wireless encryption includes 64/128-bit WEP and WPA-PSK/WPA2-PSK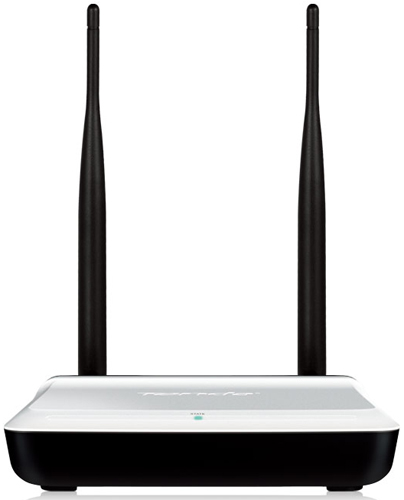 Technical Specifications
Hardware Features
Standards
IEEE 802.3, IEEE 802.3u,IEEE802.11b,IEEE802.11g,IEEE802.11n
Band
2.4Ghz
Wireless Rate
300Mbps
Interface & Speed
1 WAN and 1 LAN interfaces
1 Power receptacle
Button
1 Reset
LED
STATE
Antenna
2* 5dBi external antennas
Power
9V==600mA
Dimensions (LxWxH,mm)
133*87*24.76 mm (excluding antenna)
Wireless Features
Basic Features
Channel
11 channels
Channel Width
20Mhz, 20Mhz/40Mhz
Transmit Power
b Mode´╝Ü
1, 2, 5.5, 11Mbps : 17dbm´╝î ▒1dbm
g Mode´╝Ü
6, 9Mbps : 16dbm´╝îtolerance´╝Ü▒1dbm
12, 18Mbps : 15.5dbm´╝îtolerance´╝Ü▒1dbm
24, 36Mbps : 15dbm´╝îtolerance´╝Ü▒1dbm
48, 54Mbps : 15dbm´╝îtolerance´╝Ü▒1dbm
n Mode´╝Ü(Single antenna, 20/40M)
MCS0, 1_´╝Ü7.2/15, 14.4/30 Mbps´╝Ü16dbm´╝îtolerance´╝Ü▒1dbm
MCS2, 3_´╝Ü21.7/45, ?28.9/60 Mbps´╝Ü15.5dbm´╝îtolerance´╝Ü▒1dbm
MCS4, 5_´╝Ü43.3/90, 57.8/120 Mbps ´╝Ü15dbm´╝îtolerance´╝Ü▒1dbm
MCS6, 7_´╝Ü65/135, 72.2/150 Mbps ´╝Ü15dbm´╝îtolerance´╝Ü▒1dbm
Working Modes
Wireless Router/ WDS/ WISP/ AP
Wireless Security
WPS, WEP, WPA-PSK and WPA2-PSK
Software Features
Internet Connection Type
PPPoE, DHCP, Static IP, PPTP, L2TP
DHCP
Built-in DHCP server
Security
Client Filter/MAC Address Filter/URL Filter
Bandwidth Control
Yes
DDNS
Dyndns / no-ip
Others
Operating Enviroment
Operating Temperature
0Ôäâ ~ 40Ôäâ
Storage Temperature
-30oC ~70oC
Operating Humidity
10% ~90% RH
Storage Humidity
10% ~90% RH
Minimum System Requirement
Computer with:
Microsoft IE, FireFox , or Safari browser
CD-ROM drive
Network adapter
Package Contents
N30
Power Adapter
Quick Installation Guide
CD-ROM
Certificates
FCC, CE, RoHS, WEEE