Pay only P 564 a Month for 12 months.
Or pay only P 1,068 a Month for 6 months.
Installment promo is available for locally issued credit cards
Card holder must transact inside an Asianic store to avail of the installment
TL-PA8010P KIT
HomePlug AV2 standard compliant*
Line-Neutral/Line-Ground 2×2 MIMO with Beamforming ensures larger range, higher transmission capacity and more stable connections
Gigabit port provides secure wired networks for desktops, smart TVs or games consoles
Integrated power socket ensures no power outlet goes to waste
Plug and play, no configuration required
Patented Power-Saving Mode automatically reduces power consumption by up to 85%*
AV1200! 
Perfect for Bandwidth Demanding Activities
Advanced HomePlug AV2 technology means the TL-PA8010P KIT supports 2x2 MIMO* with beamforming, delivering ultra-fast data transfer speed. Perfect for bandwidth demanding activities like streaming Ultra HD video to multiple devices simultaneously, online gaming and large file transfers.
Line-Neutral/Line-Ground 
with Beamforming
- Larger Range
MIMO Technology with Beamforming maximizes the performance on the independent streams, which improves coverage throughout the home, particularly for previously hard to reach outlets.
Gigabit Port
for Ultra-fast Datasheet Transfer
With one Gigabit Ethernet port, TL-PA8010P KIT allows users to connect a bandwidth intensive device to the Internet at high speeds and ensures the smooth transmission of Ultra HD video streaming. This makes the TL-PA8010P KIT the perfect home entertainment companion.
Plug and Play,
No Configuration Required
Connect a powerline adapter to the router; plug another powerline adapter into a wall socket in another room, and connect it to your Internet enabled device via Ethernet - and you're done!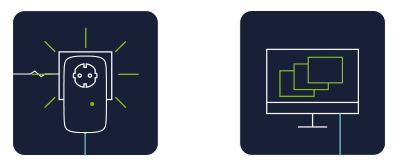 Extra Power Socket for Additional Devices
The integrated power socket, with power output of up to 15A*, means the powerline can be used like a traditional electrical socket. Simply plug in your device or extension lead as though it were a normal wall socket. The built-in noise filter also helps to prevent electrical signal noise from affecting Powerline performance.
Power Save by Up to 85%
TL-PA8010P is a new-generation of Powerline adapter. Its sophisticated Power-Saving mode automatically switches from its regular "Working" mode to "Power-Saving" mode reducing energy consumption by up to 85%. 
Technical Specifications
HARDWARE FEATURES
Plug Type
:
EU, UK, US
Standards and Protocols
:
HomePlug AV2, IEEE 1901, IEEE 802.3, IEEE 802.3u,IEEE 802.3ab
Interface
:
1 * Gigabit Ethernet Port, Power Socket
Power Consumption
:
Maximum: 6 W 
LED Indicator
:
PWR, PLC, ETH
Dimensions ( W x D x H )
:
5.2×2.8×1.7 in. (131×72.8×42 mm)
Range
:
300 meters over electrical circuit
Power Output to 
integrated Socket
:
16 A
SOFTWARE FEATURES
Modulation Technology
:
OFDM (PLC)
Encryption
:
Powerline Security
OTHERS
Certification
:
FCC, RoHS
Package Contents
:
Powerline Ethernet Adapter
6.5 ft. (2m) Ethernet Adapter
System Requirements
:
Windows 2000/XP/2003/Vista, Windows 7/8/8.1/10, Mac, Linux
Environment
:
Operating Temperature: 0°C~40°C (32°F~104°F)
Storage Temperature: -40℃~70℃ (-40℉ ~158℉)
Operating Humidity: 10%~90% non-condensing
Storage Humidity: 5%~90% non-condensing