Vertiv Liebert EXM 3 Phase UPS 80-200KVA Uninterruptible Power Supply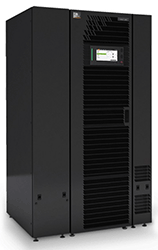 Vertiv Liebert EXM 3 Phase UPS 80-200KVA Uninterruptible Power Supply
The Liebert® eXM UPS promises efficient and economical operation with a flexible power system that is optimized to meet the unique demands of midsize IT applications. Matching ancillary cabinets provide the ability to meet specific demands for run time, bypass and parallel requirements.
Price indicated is not actual selling price. Actual price will be given on a per quote basis.
Availability: Order Basis
Efficient, Flexible Power Optimized for Midsize Applications
The Liebert® eXM UPS is based on a reliable, double conversion  power topology that uses an efficient transformer-free design.  Excellent efficiencies of 95.4% are generated and can be enhanced to 98% using our unique Eco Mode. A unity power factor delivers more capacity in a smaller footprint.
Fixed capacities of 80, 100, 120, 140, 160, 180 and 200kVA/kW utilize a modular construction design with optimized ancillary cabinets.
The new LCD user interface ensures accurate interaction  with the system, with a low learning curve.  Intelligent controls and communications integrate with Liebert Nform, SiteScan and the Trellis Platform. Life Services provides 24x7 remote monitoring by our expert staff to improve availability and lower labor costs.
Benefits
Efficiency Winning operating efficiencies that remain high across multiple load scenarios.
Transformer-free design saves space, capital, weight and shipping costs.
Optimized ancillaries provide small footprints for better use of space and lower installation costs.
Matching battery cabinets to meet extended runtime.
Bypass Cabinet option allows maintenance without shutting down the critical load.
Distribution Panel Board option to add more circuits
UPSs can be paralleled to obtain more capacity or add system level redundancy.
DCIM and BMS ready.
Meet rapid deployment schedules
Technical Specifications
Unity Power Factor ensures more power is provided in a smaller footprint, thus increasing system capacity while minimizing cabling and installation costs.
Industry leading efficiency rating: 97% for double conversion mode, and 99% for eco mode.
Optimized ancillaries provide small footprints for better use of space and lower installation costs.
Lithium-ion battery compatible (480V models)
Comprehensive, easy to use touchscreen control panel.
ENERGY STAR qualified.
UL924 listed for Emergency Lighting.
Native 208V or 480V
Integrated Albér battery monitoring option can prevent pending battery issues, the most common cause of UPS failures.
Configure to Delivery option in 4 Days (10-40kVA USA)