Western Digital Caviar wd10000aacs 1TB SATA II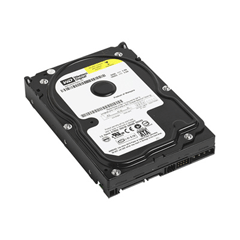 Western Digital Caviar wd10000aacs 1TB SATA II
WD Caviar 1TB SE16 drives combine 16 MB cache with 3 Gb/s transfer rate for lightning-fast performance in demanding desktop and workstation applications. Technologically advanced acoustics minimize noise and cool drive operation and enhanced reliability features help protect the drive and the data stored on it.
Key Features
Top performance for Windows Vista - WD Caviar SE16 SATA and EIDE drives are certified for Windows Vista and are top performers on the Windows Vista Experience Index.

16 MB Cache - Bigger cache means faster performance. A massive 16 MB cache combined with advanced acoustic and power-reducing technologies make these ultra-fast drives the perfect solution for the fully loaded PC.

Perpendicular Magnetic Recording (PMR) - The latest generation of WD Caviar SE16 drives employs PMR technology to achieve even greater areal density.( 1TB only)

IntelliSeek™ - Calculates optimum seek speeds to lower power consumption, noise and vibration. View demo >

SecurePark™ - Parks the recording heads off the disk surface during spin up, spin down and when the drive is off. This ensures the recording head never touches the disk surface resulting in improved long term reliability due to less head wear, and improved non- operational shock tolerance.

StableTrac™ - The motor shaft is secured at both ends to reduce system-induced vibration and stabilize platters for accurate tracking, during read and write operations.( 1TB only)

How this WD hard drive protects your data
Data Lifeguard™ is an exclusive set of data protection features, including shock protection, an environmental protection system and real-time embedded error detection and repair. WD's Data Lifeguard technology automatically finds, isolates, and repairs problems that may develop over the life of a hard drive.

Data Lifeguard Tools™ are software utilities designed for WD hard drives that work with the embedded Data Lifeguard features to make hard drive installation,diagnostics and repair both simple and worry-free. (Download Data Lifeguard Tools)

ShockGuard™ instantaneously protects the hard drive against damage from bumps and vibrations while it is running. This technology enables WD Caviar drives to achieve industry-leading shock specifications.
Technical Specifications:
Performance Specifications
Rotational Speed
7,200 RPM (nominal)
Buffer Size
16 MB
Average Latency
4.20 ms (nominal)
Start/Stop Cycles
50,000 minimum
Seek Times
Read Seek Time
8.9 ms
Write Seek Time
10.9 ms (average)
Track-To-Track Seek Time
2.0 ms (average)
Full Stroke Seek
21.0 ms (average)
Transfer Rates
Buffer To Host (Serial ATA)
3 Gb/s (Max)
Buffer To Disk
972 Mbits/s (Max)
Physical Specifications
Formatted Capacity
1000,156 MB
Capacity
1 TB
Interface
SATA 3 Gb/s
User Sectors Per Drive
1,465,149,168
Physical Dimensions
English
Height
1.028 Inches (Max)
Length
5.787 Inches (Max)
Width
4.00 Inches (+/- 0.010 inch)
Weight
1.39 Pounds
Metric
Height
25.4 mm (Max)
Length
147 mm (Max)
Width
101.6 mm
Weight
0.63 kg
Environmental Specifications
Shock
Operating Shock (Read)
65G, 2 ms
Non-operating Shock
350G, 2 ms
Acoustics
Idle Mode
28 dBA (average)
Seek Mode 0
33 dBA (average)
Seek Mode 3
29 dBA (average)
Temperature (English)
Operating
32° F to 140° F
Non-operating
-40° F to 149° F
Temperature (Metric)
Operating
-0° C to 60° C
Non-operating
-40° C to 65° C
Humidity
Operating
5-95% RH non-condensing
Non-operating
5-95% RH non-condensing
Altitude (English)
Operating
-1,000 feet to 10,000 feet
Non-operating
-1,000 feet to 40,000 feet
Altitude (Metric)
Operating
-305M to 3,050M
Non-operating
-305M to 12,200M
Vibration
Operating
Linear
20-300 Hz, 0.75 G (0 to peak)
Random
7-500 Hz (0.00221 g² / Hz)
Non-operating
Low Frequency
10-300 Hz, 0.195 inches (double amplitude)
High Frequency
300-500 Hz, 5.0G (0 to peak)
Electrical Specifications
Current Requirements
12 VDC
Read/Write
460 mA
Idle
450 mA
Standby
6 mA
Sleep
6 mA
5 VDC
Read/Write
650 mA
Idle
600 mA
Standby
180 mA
Sleep
180 mA
Power Dissipation
Read/Write
8.77 Watts
Idle
8.40 Watts
Standby
0.97 Watts
Sleep
0.97 Watts