Pay only P 959 a Month for 12 months.
Or pay only P 1,817 a Month for 6 months.
Installment promo is available for locally issued credit cards
Card holder must transact inside an Asianic store to avail of the installment
Features
Watch the things you love on the screen you love.
Get your family and friends together, sit back, and enjoy! Whether it's your own videos, music, and photos or Internet entertainment, you can play it all in the comfort of your living room.
Watch popular movies and TV episodes instantly.
Don't wait for the mailman to deliver your movies and don't settle for streaming to your small computer screen. Choose from over 10,000 titles from Blockbuster On Demand or access your Netflix unlimited membership and watch TV episodes and movies on your big screen.*
Access popular Internet content from the comfort of your living room.
Play YouTube videos, access Facebook, see your photos on Flickr, play music on Pandora, and watch daily video podcasts from CNN, NBC, MTV, ESPN, and other online content.*
*Availability varies by country. Pandora available in US only. These streaming services may be changed, terminated or interrupted at any time.
Play almost any type of media file.
WD TV Live Hub supports a wide variety of the most popular file formats including HD camcorder video formats. No need to spend time transcoding.
 
Automatic play.
Select your favorite song, movie or photo slideshow to automatically play when the device is turned on. Perfect for living art on your HDTV or for digital signage.
Collect your media in one place. Stream it anywhere in the house.
Play all your personal media the easy way.
Load up the high-capacity drive with all your media to create your own media jukebox. In a few clicks, you can play your home movies, share vacation slideshows, and play your music on the big screen and sound system in your living room.
Access media anywhere on your home network.
The Ethernet port lets you connect this media player to your home network so you can access and stream video, view photos, and play music from any Mac, PC, and network drive in your house.
It's a multi-room media server streaming to any TV in your house.
You can stream any file on the WD TV Live Hub media center to a WD TV Live media player or any DLNA/UPnP compatible TV, Blu-ray Disc player, or game console. The system is powerful enough to handle multiple streams so you can stream a movie to your Blu-ray Disc player, while viewing photos on your TV upstairs.
Video camera-ready.
Connect your camcorder or digital camera directly to the media center and instantly view or archive HD video and photos without a PC.
Transfer files easily.
Copy, move or delete files stored on a USB drive, a network drive, your camcorder, or a camera attached to the media center using the on-screen menus.
Sync new media.
The player automatically synchronizes with watched folders so new content from any PC, Mac, or USB storage will be added to the WD TV Live Hub.
Take your entertainment center to a whole new level of cool.
The perfect partner for your HDTV. With Full-HD 1080p playback, animated menus, and a programmable remote, the WD TV Live Hub media center allows you to experience your media at its best. It's compact, it's customizable, and it's just plain cool.
Programmable remote.
Use the included programmable remote control to make your entertainment choices using our crisp, animated navigation menus. Customize buttons for quick and easy access to your favorite music, photos, videos or menu choices.
Full-HD 1080p video playback.
This is the real thing; Full-HD 1080p playback. Sit back and enjoy the spectacular picture quality of brilliant high definition video and the crystal-clear sound of digital audio.
Works with USB keyboards.
Use the on-screen keyboard, an alphanumeric keypad, or attach your wired or wireless USB keyboard for easy text input. Perfect for searching videos on YouTube or updating your status on Facebook.
WiFi-ready.
Supports a wireless network connection to your home network with an optional USB wireless adapter. [Click here to view compatible wireless-ready USB adapters.] Or, get the speed you need to stream HD with a WD Livewire powerline AV network kit - it extends your Internet to any room in your home using your electrical outlets.
HDMI 1.4, composite video and component video output.
The HDMI port lets you connect to the highest quality HDTV or home theater. Additional composite (RCA), and component outputs ensure compatibility with virtually all television sets.
SPDIF digital output.
The optical audio output sends digital signals to your AV receiver for the best surround sound experience.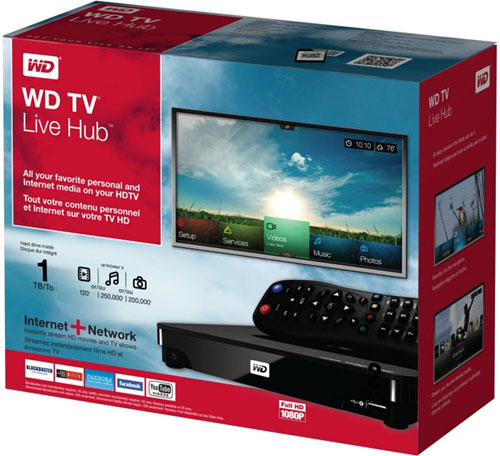 Technical Specifications
Model #
WDBABZ0010BBK
Interface
Gigabit Ethernet, USB 2.0, HDMI, Composite A/V, Component video, Optical audio
Capacity
1 TB
Operating System
Windows/Mac
File Formats Supported
Video - AVI (Xvid, AVC, MPEG1/2/4), MPG/MPEG, VOB, MKV (h.264, x.264, AVC, MPEG1/2/4, VC-1), TS/TP/M2T (MPEG1/2/4, AVC, VC-1), MP4/MOV (MPEG4, h.264), M2TS, WMV9, FLV (h.264) 
Photo - JPEG, GIF, TIF/TIFF, BMP, PNG
Audio - MP3, WAV/PCM/LPCM, WMA, AAC, FLAC, MKA, AIF/AIFF, OGG, Dolby Digital, DTS
Playlist - PLS, M3U, WPL
Subtitle - SRT, ASS, SSA, SUB, SMI
Note:
MPEG2 MP@HL up to 1920x1080p24, 1920x1080i30 or 1280x720p60 resolution.

MPEG4.2 ASP@L5 up to 1280x720p30 resolution and no support for global motion compensation.

WMV9/VC-1 MP@HL up to 1280x720p60 or 1920x1080p24 resolution. VC-1 AP@L3 up to 1920x1080i30, 1920x1080p24 or 1280x720p60 resolution.

H.264 BP@L3 up to 720x480p30 or 720x576p25 resolution.

H.264 MP@L4.1 and HP@4.1 up to 1920x1080p24, 1920x1080i30, or 1280x720p60 resolution.

An audio receiver is required for multi-channel surround sound digital output.

Compressed RGB JPEG formats only and progressive JPEG up to 2048x2048.

Single layer TIFF files only.

Uncompressed BMP only.

For details, please refer to the user manual.

File Formats Not Supported
Does not support protected premium content such as movies or music from the iTunes Store, Cinema Now, Movielink, Amazon Unbox, and Vongo
Languages Supported
English, French, Italian, German, Spanish, Simplified Chinese, Traditional Chinese, Korean, Japanese, Russian, Portuguese
System Requirementss
Standard or high definition television with HDMI or composite video connections. Cables not included.
Home network and broadband connectivity for online services.
Package Contents
Media Center: media player with built-in hard drive
Remote control with batteries
AC adapter
Quick Install Guide