Pay only P 640 a Month for 12 months.
Or pay only P 1,212 a Month for 6 months.
Installment promo is available for locally issued credit cards
Card holder must transact inside an Asianic store to avail of the installment
Features
The Xtreamer 2010 passive cooling from factor introduce both silent cooling and HD audio Pass through support.
It features state-of-the-art digital playback that brings all the media content from your PC to your living room. With a dizzying array of file-format support, It is engineered from the ground up for high performance networking and hi-definition playback.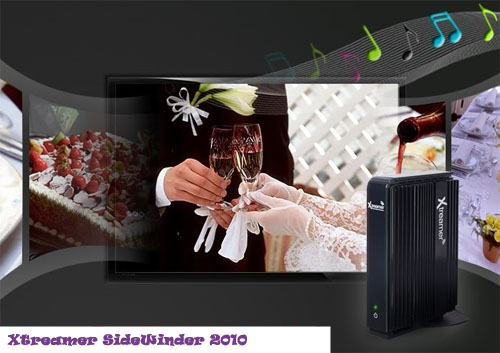 This comprehensive, feature-packed HTPC provides a near-complete entertainment experience for you and your friends and family. For the cheapest price in the market it offers truly brilliant, hi-definition video output with vivid colors with support for internal 2.5" SATA HDD and USB Slave functionality to improve connectivity and transfer rates it can be supplemnted with Wireless antena . 

The HDMI has been configured to the 1.3a spec, allowing full support of HD Audio pass-through for DTS HD-HR, DTS HD-MA, Dolby Digital Plus and Dolby TrueHD. The ports on the device have also been configured, with a USB port placed at the rear panel,next to the optical S/PDIF.
The Xtreamer allows you to pull in digital video, audio and photos from various sources for your enjoyment on your HDTV or Home Theater setup.
You can stream or playback your digital media content from a variety of sources, such as your PC, NAS, digital camera, USB mass storage devices (Flash drive, HDD, DVD drive) ,internal SATA 2.5" HDD** and even directly from the Internet via the Internet Media Service.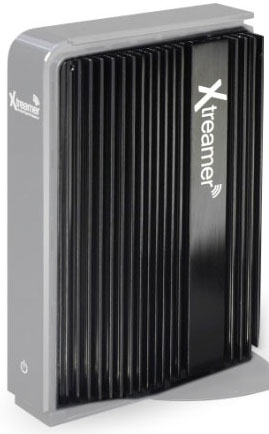 The Xtreamer supports the latest high bitrate video formats (MPEG2 MP@HL, H.264 HP@L4.1, VC-1 AP@L3 in TS of at least 40Mbps) to give you up to 1080p high-definition videos.
In recognition of advances in Internet TV, the Xtreamer supports FLV file format so as to enhance your experience of Internet LIVE streaming featuring popular internet TV such as YouTube, Picasa and Yahoo video.
The Xtreamer firmware is upgradeable to support future media containers, codecs and features.
* Streaming video over WiFi under best condition only able to achieve up to 10Mbps.
** HDD not included, please refer to the HDD compatibility list for Xtreamer     
*** An internal HDD is required for these functions.
**** 1.5M length HDMI Cable not included.
Wirelessly stream movies, music or photos from your computer across your home Wi-Fi network.
The Xtreamer USB Antenna is a 802.11n (draft 2.0) USB WiFi adapter that will allow you to bridge your home network to the Xtreamer Utilizing the latest WiFi technology, the antenna will provide fast, secure and reliable connections that is 175% stronger than any wireless solution in the market.
If you don't have a 802.11n router don't worry. Get two antennas, place one at your PC and the other at the streamer back USB port and create yourself a dedicated VPN to ensure smooth un-interrupted streams.
• Adopts MIMO technology for wireless better performance and range (up to 150Mbps)
• Adopts CCA™ technology which automatically avoids channel conflicts using its channel selection feature
• USB2.0 connector
• Quick Secure Setup, complies with WPS for worry free wireless security
• Supporting Qos-WMM, WMM-PS
• Antenna Rotatable, 90 degree of vertical angle and 180 horizontal
• Supports 64/128 bit strength WEP encryptions, as well as WPA/WPA2 and WPA-PSK/WPA2-PSK
encryptions and mechanisms
• Provides Infrastructure and Ad-Hoc modes
Technical Specifications
Chipset
Ralink RT3070 Single Chip
Standards
IEEE 802.11n (draft 2.0), IEEE 802.11g, IEEE 802.11b, Cisco CCX support, CSMA/CA with ACK
Wireless Signal Rates With Automatic Fallback
11n (20MHZ): MCS0-7 (upto 72Mbps)
11n (40MHZ) : MCS0-7 (upto 150Mbps)

270/243/216/162/108/81/54/27Mbps
135/121.5/108/81/54/40.5/27/13.5Mbps
130/117/104/78/52/39/26/13Mbps
65/58.5/52/39/26/19.5/13/6.5Mbps

11g: 54/48/36/24/18/12/9/6M(adaptive)
11b: 11/5.5/2/1M(adaptive)

Frequency Range
2.4-2.4835GHz
Wireless Transmit Power
20dBm(MAX)
Modulation Type
OFDM/CCK/16-QAM/64-QAM
Receiver Sensitivity
270M: -68dBm@10% PER
130M: -68dBm@10% PER
108M: -68dBm@10% PER
54M: -68dBm@10% PER
11M: -85dBm@8% PER
6M: -88dBm@10% PER
1M: -90dBm@8% PER

Security
64/128 bit WEP, WPA/WPA2, WPA-PSK/WPA2-PSK (TKIP/AES)
Interface
USB 2.0 Hi-Speed, USB 1.1
Antenna Type
Internal Omni-directional Antennas
Certifications
CE, FCC
Operating Temperature
0°C~40°C (32°F~104°F)
Storage Temperature
-40°C~70°C (-40°F~158°F)
Relative Humidity
10% ~ 90%, non condensation
Storage Humidity
5%~95% non-condensing
Dimensions
15 x 15 x 155 mm
Optional Package Content

USB Wireless antenna

* Streaming video over WiFi under best condition only able to achieve up to 10Mbps.